45 ACP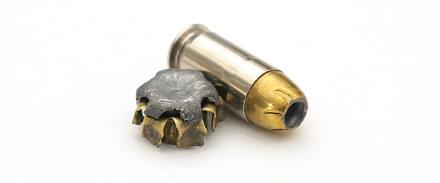 We shot 32 different loads of 45 ACP self-defense ammo into ballistic gel
See the results below
45 automatic colt pistol ammo is the perfect complement for your 1911 pistol or other 45 ACP chambered handgun. You'll generally find .45 auto ammunition for sale loaded with bullets that range between 185 grain and 230 grain, with the 230 gr. variety the most common.
Check out our full line-up of in-stock .45 cal ammunition for sale with full metal jacket (FMJ) and lead round nose bullets and also jacketed hollow point (JHP) rounds ready for your next trip to the range. Shooters looking to get some practice or training time in will likely lean toward a full metal jacket projectile while those looking for a round they can rely upon for self defense will want to get a more sophisticated jacketed hollow point bullet that is designed to expand upon impact with its target. In either case, check out our line-up of cheap 45 Auto ammunition available in the bullet categories laid out below:
50rds - 45 ACP Speer Lawman 230gr. TMJ Ammo

50rds – 45 ACP Speer Lawman 155gr. RHT Frangible Ammo

About This Data

Firearm Used
Ruger SR45

Barrel Length
4.5"

Distance to Target
10 Feet

Barrier
4-layer cloth