Gel test Results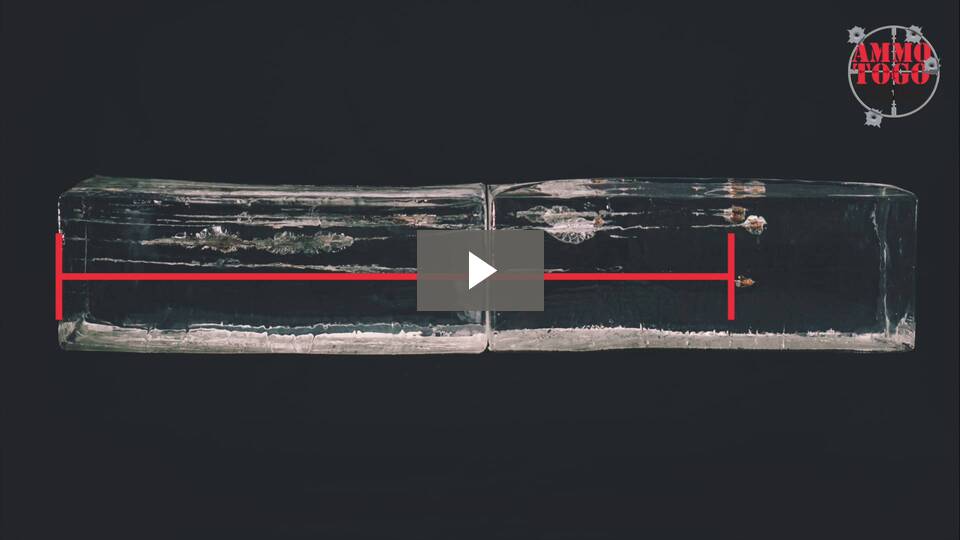 As you hunt for the best self-defense 9mm Luger (9x19) ammo, we thought you might enjoy seeing the results of some testing we recently conducted with calibrated Clear Ballistics gelatin.
We shot five of these Federal Ammunition rounds through a four-layer cloth barrier using a S&W M&P Shield. The results are detailed in the video you see above as well as the photographs. Through the charts, you should get a great idea how this Federal Ammunition ammo stacked up relative to other 9mm Luger (9x19) ammo products available to American shooters.
To get a better sense of our tests, be sure to check out all the protocols we followed when conducting our tests to determine the best self-defense ammo.
How do the results for this Federal Ammunition 9mm Luger (9x19) compare to other 9mm Hollow Point Ammo?
50rds – 9mm Federal LE 115gr. Hi-Shok JHP Ammo Gel Test Results
Median
Bullet Depth

(in.)

21.6
25.9
26
26.7
27
Expanded Diameter

(in.)

0.35
0.35
0.35
0.35
0.41
Bullet Weight after shot

(gr.)

115
115.2
115.2
115.3
115.4
Bullet Velocity

(fps)

1057
1084
1087
1100
1104
Federal Ammunition 9mm Luger (9x19) Ballistic Data
Federal Ammunition 9mm Luger (9x19) Ammo Details
Barrel Length inches

4
Ballistics Coefficient (G1)

0.123
Ballistics Coefficient (G7)

0.000
Sectional Density

0.130
| | Muzzle | 25 yds. | 50 yds. | 75 yds. | 100 yds. |
| --- | --- | --- | --- | --- | --- |
| Velocity fps | 1180 | 1106 | 1048 | 1001 | 961 |
| Energy ft lbs | 356 | 312 | 280 | 256 | 236 |
| Bullet drop inch | n/a | 0 | -0.9 | -3.7 | -8.7 |
Trajectory Line Graph Federal Ammunition 9mm Luger (9x19)
Velocity / Energy Comparisons
Review
Reviews
Leave a Review
posted on by no

This is a really good round, on the short list of best available duty and carry loads from the 1980s. The test is kind of suspect. The artificial clear gel substitute does not match the behavior of real calibrated 10% gelatin. It is much more elastic and does not resist the passage of the bullet nearly as much. Numerous bullets fail to expand in it at all that perform very well in real gelatin.

posted on by Joe c

The best

posted on by Chris L

Product came quick, great condition, dry easy company to work with. I'd recommend them anytime. Great prices as well!

posted on by SIDNEY JOHNSON

EXCELLENT SERVICE , WILL USE AMMOTOGO AS OFTEN AS I CAN SID JOHNSON

posted on by Atlanta Cordero

Great service and well priced. I was very satisfied with the product I ordered as well. Thanks guys ! I would definitely be a return customer especially if there's any deals in the future for more ammo or firearm accessories like optics or magazines!

posted on by Robert

The price is great and the ammo was accurate and burned really clean!

posted on by DAVID GIESE

Have shot a couple hundred rounds of this ammo out of my glock 19 Accurate, feeds well and priced right. Have read the info out there about jacket separation and inconsistent expansion. Certainly better engineered JHP is available but for someone with limited funds looking for a good defense load thats affordable I just dont think it can be beat.

posted on by Steve Heaphy

After ballistic testing this round gets a 3 out of 5. The penetration was ok, accuracy is good, but the expansion varied. Some rounds expanded well while others did not and core-jacket separations happened. The 9PBLE is a better round if you like the Classic line of ammo. Get some HST in regular or +p pressure, they performed better in my ballistic tests.

posted on by ERIC FRIESE

I really like this ammo at the price. Reliable, accurate and while not the "best" super new defense round, I would still rely on this round for self defense. I fact, it is loaded in my Ultra Compact 9mm and Glock 19 right now. In fact, I really can't think of anything detrimental to say about this stuff.

posted on by Efren Jimenez

Very accurate ammunition, I've seen the tests, it doesn't expand elegantly but boy does it expand, fed perfectly through my gun and the price is right.

posted on by Steve Heaphy

This is a tried and tested round by used police for years. It is reliable, accurate, and very affordable ammo.

posted on by Michael Thompson

This is an old school HP with what is out on the market now. But still works outstanding, I have boxes of this load and the +P+ hi-shok both shoot great and will get the job done if you have to use them. A outstanding load in any 9mm pistol and at a great price!!

posted on by Ryan Rhodes

If your pistol has trouble feeding jhps you should give these a try. They have a nice rounded profile and it seems like federal has tweaked them over the years to expand more reliably. They aren't as good as many more modern designs but that doesn't make them useless. I still use these in some of my older 9mms as they are standard pressure and feed well.