Gel test Results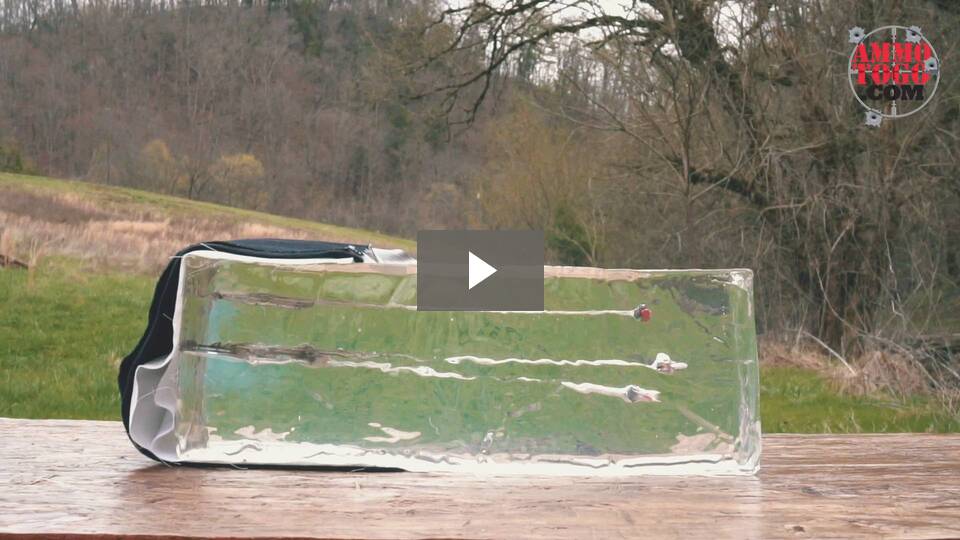 As you hunt for the best self-defense 9mm Luger (9x19) ammo, we thought you might enjoy seeing the results of some testing we recently conducted with calibrated Clear Ballistics gelatin.
We shot five of these Hornady Ammunition rounds through a four-layer cloth barrier using a S&W M&P Shield. The results are detailed in the video you see above as well as the photographs. Through the charts, you should get a great idea how this Hornady Ammunition ammo stacked up relative to other 9mm Luger (9x19) ammo products available to American shooters.
To get a better sense of our tests, be sure to check out all the protocols we followed when conducting our tests to determine the best self-defense ammo.
How do the results for this Hornady Ammunition 9mm Luger (9x19) compare to other 9mm Hollow Point Ammo?
25rds - 9mm Hornady Critical Defense 115gr. HP Ammo Gel Test Results
Median
Bullet Depth

(in.)

13
13.5
13.7
13.8
14.1
Expanded Diameter

(in.)

0.48
0.52
0.52
0.52
0.54
Bullet Weight after shot

(gr.)

115
115.5
115.7
115.7
115.8
Bullet Velocity

(fps)

1059
1062
1063
1064
1072
Hornady Ammunition 9mm Luger (9x19) Ballistic Data
Hornady Ammunition 9mm Luger (9x19) Ammo Details
Barrel Length inches

4
Ballistics Coefficient (G1)

0.129
Ballistics Coefficient (G7)

0.000
Sectional Density

0.130
| | Muzzle | 25 yds. | 50 yds. | 75 yds. | 100 yds. |
| --- | --- | --- | --- | --- | --- |
| Velocity fps | 1140 | 1078 | 1028 | 987 | 951 |
| Energy ft lbs | 332 | 297 | 270 | 249 | 231 |
| Bullet drop inch | n/a | 0 | -1.9 | -5.8 | -12 |
Trajectory Line Graph Hornady Ammunition 9mm Luger (9x19)
Velocity / Energy Comparisons
Review
Reviews
Leave a Review
posted on by Paris Vega

Super fast delivery. Compared to other self defense hollow point ammo I tested, Hornady had the lowest amount of recoil, making it easier to stay on target. I haven't tested with ballistic gel yet, but for home defense purposes I like the fact that it has shorter penetration distances based on other tests I've read. I just shot some targets at the range with it. No complaints yet. I'm keeping a mag loaded with this ammo for my self defense pistol.

posted on by T Hillbilly

Great stuff need a 147 please

posted on by Doug

I have carried this ammo since the beginning. I like its consistency and shootability and it's a name with extensive R&D behind it, in case I ever need back-up in court.

posted on by ABM

Very good ammo for home defense. I've shot over 300+ rounds at the range for testing and haven't had any misfires of any kind. Recommended!

posted on by Larry

Fast delivery. Good Ammo at good price. Have purchased from Ammo To Go in the past and will again in the future. Would recommend to anyone.

posted on by Mark Sutton

Shot 25, no problems. Wish they made a 124 weight version.

posted on by Steve Heaphy

This ammo is ok and part of a new generation of hollows that are made with a tip that is not suppose plug up when shot into heavy clothing. There are many other options in 9mm that perform better than these rounds. Not a bad choice for S.D in my ballistic testing but hornady 124gr red box with other L.E. hollows will give you better expansion and penetration than the FTX round.

posted on by james randall

Shot 1/2 of a box. I had 2 misfires. Not happy with the amount of duds. I have heard reports of primer issues. Accuracy was not impressive either. I would go with something else. Can't trust your life to something that may not fire.