Ballistic Gel Testing
In hopes of giving ourselves and our customers a better idea how this 40 Smith & Wesson self-defense ammo would perform if called upon in a self-defense scenario, we tested dozens of the best selling hollow points on the market.
We fired five rounds of this Hornady Ammunition 40 Smith & Wesson ammo through a cloth barrier into Clear Ballistics calibrated synthetic gelatin and recorded the results. For these tests, we used a S&W M&P40c with a 3.5-inch barrel. In the photos, graphics and video on this page, you can see specifically how the Hornady Ammunition ammo performed and how it sticks up with the rest of the 40 Smith & Wesson ammo we have tested so far.
To read more about our testing procedures and discover what round makes the best self-defense ammo for you head to this page.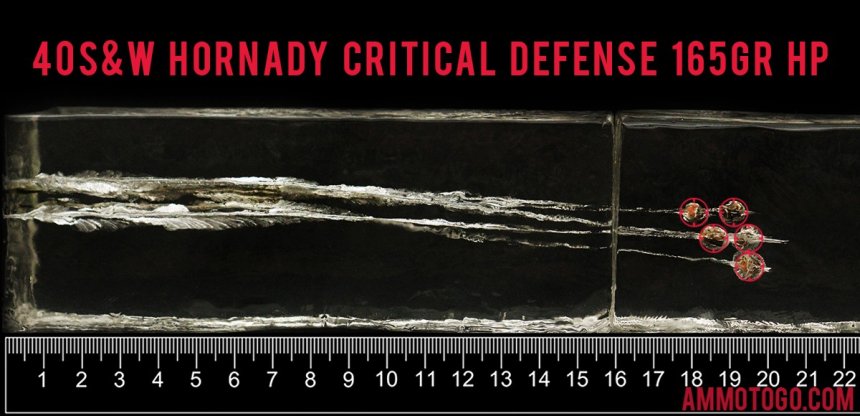 Unfired versus Fired Round Comparison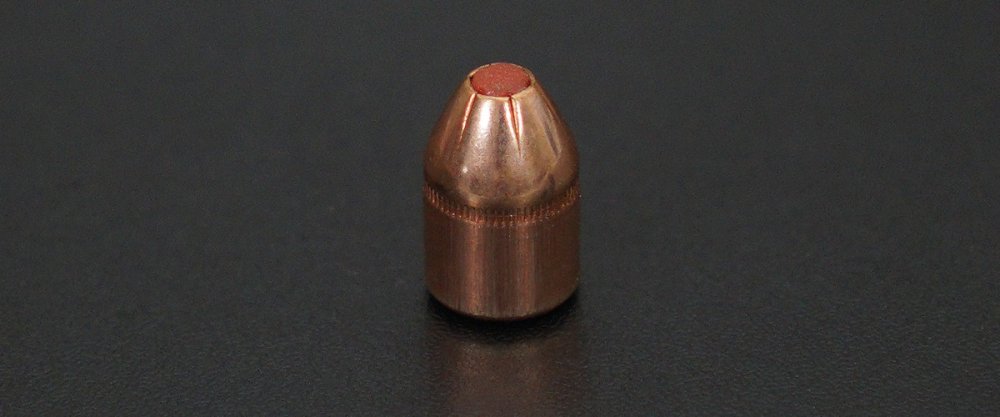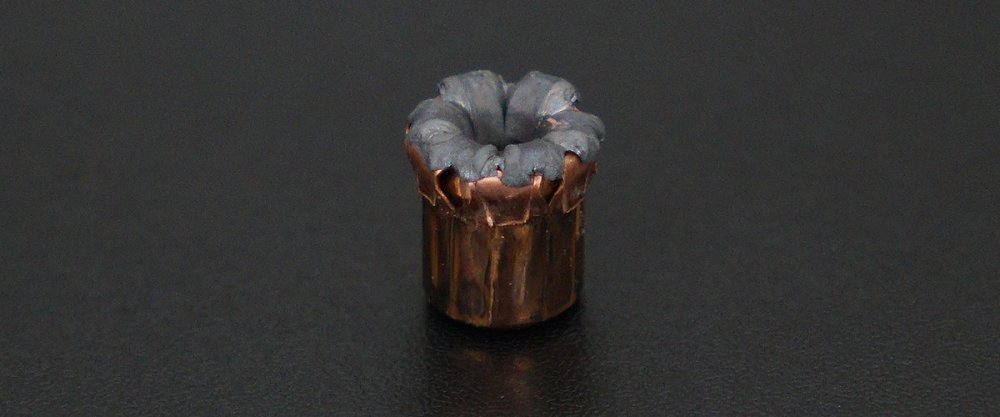 20rds - 40 S&W Hornady Critical Defense 165gr. HP Ammo Gel Test Results
Median
Bullet Depth

(in.)

17.8
18.3
18.8
19.2
19.3
Expanded Diameter

(in.)

0.45
0.47
0.47
0.49
0.49
Bullet Weight after shot

(gr.)

163.5
163.7
163.8
163.9
164.4
Bullet Velocity

(fps)

1040
1043
1045
1047
1060
Reviews
Leave a Review
posted on by Charles Gray

I carry this in personal firearm everyday. I have never shot a more consistent ammo out of my Glock 23 or my Kimber 45. Shooting this ammo is expensive I know but if you're serious about protecting your loved one's and yourself then you already know to at least be familiar with ammo that you're carrying in your weapon. At 10 yards I got nothing out of the 9 ring and at 20 yards nothing out of the 7 ring. I highly recommend this ammo for anyone that is serious about self preservation.

posted on by BR WA

Recently purchased 100 rounds of this for use in my XD40 CCW/home protection firearm. <br />
Shot 50 rounds at the range, without a hiccup; no FTE, FTF, jams, stovepipes. The powder burned very clean and left almost no residue behind. 40/50 rounds were center mass in either in 8 or 9 rings at 10 yards (there were 10 fliers, but I got excited, and they were completely my fault). <br />
<br />
The only 'drawback' to this ammo (but which I actually appreciated), is that it is a very HOT load, and kicks like a mule. The ammo is a bit on the expensive side, but what's $20 when your life might potentially be on the line one day? <br />
<br />
Overall, very consistent and accurate ammo. I would not hesitate to recommend this to friends and family.

posted on by josh laura

This ammo is great. Never had any issues with the .40 or my .45 with this stuff. Hornady is my favorite manufacturer of ammo. Don't let the price deter you. One can't put a price on his/her life and this is probably some of the most accurate handgun bullets offered on the market at this time, plus the ballistics are great and it offers reliable expansion consistently. I'm going to buy all i can while i still can.