40 S&W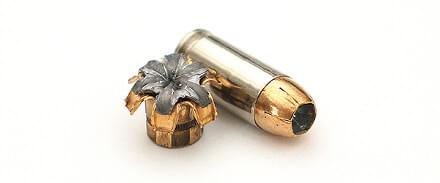 We shot 28 self-defense loads of 40 S&W ammo into ballistic gel
See the results below
Smith and Wesson and Winchester partnered to develop 40 Smith and Wesson ammo or the "40 cal" cartridge as a round for law enforcement. Their hope was to create a caliber that could mimic the performance of the FBI's reduced-velocity 10mm automatic round with rounds small enough in physical size to be carried with a medium-frame pistol.
40 S&W quickly caught on and remains a popular caliber for personal protection and range training today. Range shooters will likely opt for full metal jacket (FMJ) rounds with a non-expanding bullet while those seeking a round for protection will want to look at jacketed hollow point (JHP) ammo. In terms of ballistic performance, expect the lighter 40 cal rounds (155-grain) to leave the muzzle at about 1,205 feet per second and the heavier rounds (180-grain) to bring a muzzle velocity of about 1,050 feet per second.
Look for a wide selection of 40 S&W ammo for sale from trusted manufacturers like Federal, PMC and Hornady in the most common bullet types out there today, like full metal jacket (FMJ), jacketed hollow point (JHP) in the categories listed below:

About This Data

Firearm Used
S&W M&P40c

Barrel Length
3.5"

Distance to Target
10 Feet

Barrier
4-layer cloth