357 MAGNUM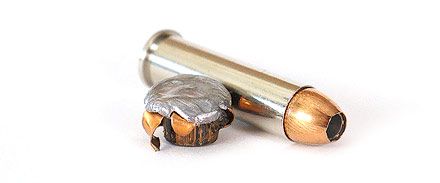 We shot 22 different loads of 357 Magnum self-defense ammo into ballistic gel.
See the results below
357 magnum ammunition is a popular range and self-defense round among American recreational shooters. Large enough to use in many capacities for hunting, the caliber is primarily used in handguns but you can find carbines chambered for 357 mag as well.
Because of the caliber's raw power, it is widely regarded as one of the best self-defense rounds available. You can generally expect muzzle velocities of 1,200 to 1,600 feet per second with commercial 357 magnum ammunition.
Sport shooters looking to do some range training will likely opt for full metal jacket (FMJ) rounds while jacketed hollow point (JHP) bullets are loaded in most commonly accepted self-defense rounds. Look for a steady in-stock supply from great manufacturers like Speer, Remington and others.
Take a look at the breakdown listed below to see all of our 357 ammo for sale.

About This Data

Firearm Used
S&W 640

Barrel Length
2.125"

Distance to Target
10 Feet

Barrier
4-layer cloth