10mm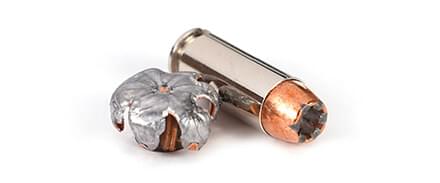 We shot 11 different loads of 10mm self-defense ammo into ballistic gel with a Glock 29 pistol.
See the results below
10mm ammo is one of the most underappreciated handgun cartridges on the market. The brainchild of legendary pistoleer Jeff Cooper and engineers at ammo manufacturer Norma, these rounds were designed to be a fighting round and to give an automatic handgun the same power capability of a revolver. The 10mm easily exceeded 357 magnum loadings, but users had a much higher capacity than a revolver. Want to learn more? Head to our blog to read how the 10mm stacks up to 357 magnum.
10mm ammunition could've easily been forgotten about and left as a small page in the book of firearms history. Fortunately the FBI adopted the 10mm pistol after a shootout in Miami in 1986 that left their agents outgunned even though they outnumbered the two assailants. The 10mm experienced a short service life with the FBI, but has since gained a cult like following among American civilian shooters. Check out our line-up of 10mm ammo for sale at the links below with jacketed hollow point rounds as well as full metal jacket rounds for range training in our arsenal. If you see it listed on our website, we have the rounds in-stock and will ship the cartridges to you fast.
Look for 10mm ammo for sale with a wide variety of bullet types as it is a pretty versatile caliber. The 10mm pistol has the ability to be loaded down to be soft shooting and comfortable with lighter weight bullets, or can literally be loaded for bear with a 220 grain hardcast load from Buffalo bore. Either way, be sure to check out the in-stock selection from great brands like Hornady, Federal and PMC.

About This Data

Firearm Used
Glock 29

Barrel Length
3.78"

Distance to Target
10 Feet

Barrier
4-layer cloth