Gel test Results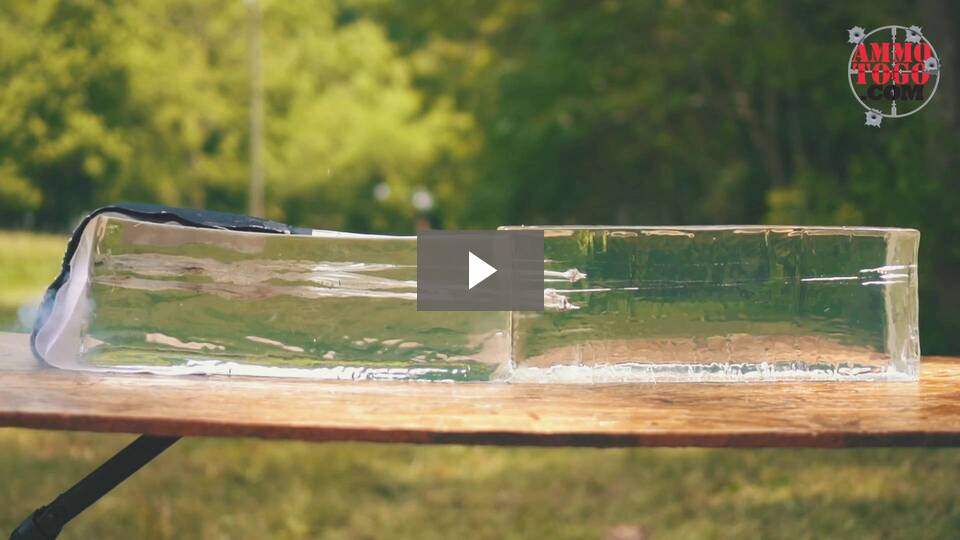 In hopes of giving ourselves and our customers a better idea how this 9mm Luger (9x19) self-defense ammo would perform if called upon in a self-defense scenario, we tested dozens of the best selling hollow points on the market.
We fired five rounds of this Federal Ammunition 9mm Luger (9x19) ammo through a cloth barrier into Clear Ballistics calibrated synthetic gelatin and recorded the results. For these tests, we used a S&W M&P Shield with a -inch barrel. In the photos, graphics and video on this page, you can see specifically how the Federal Ammunition ammo performed and how it sticks up with the rest of the 9mm Luger (9x19) ammo we have tested so far.
To read more about our testing procedures and discover what round makes the best self-defense ammo for you head to this page.
How do the results for this Federal Ammunition 9mm Luger (9x19) compare to other 9mm Hollow Point Ammo?
50rds - 9mm Federal LE Tactical HST 124gr. HP Ammo Gel Test Results
Median
Bullet Depth

(in.)

18
18
18.5
18.6
19.2
Expanded Diameter

(in.)

0.61
0.62
0.62
0.63
0.64
Bullet Weight after shot

(gr.)

123.5
123.5
123.5
123.8
124.2
Bullet Velocity

(fps)

1032
1050
1054
1062
1072
Review
Reviews
Leave a Review
posted on by Paris Vega

Fast delivery. Powerful rounds that had noticeably more kick than, say, the Hornady Critical Defense ammo. Good times at the range with this stuff. Considering it part of my go to ammo for my self defense stock pile.

posted on by 124gr Federal HST Normal Pressure

I've used normal pressure Federal HST in 124gr and 147gr for years. I've had no issues in any pistol (Glock, Dan Wesson, Kimber HK, Sig or Springfield). Bottom line: always reliable and always accurate (POI=POA). I'll use this as long as Federal makes it! I've also been getting my HST from Ammotogo for years as they can be counted on to have it in stock. Availability, good price and fast shipping - what else would anyone need.

posted on by Mike Eddleman

Great experience. My shipment was open and 2 boxes missing out of the 10 I had ordered. Ammo to Go sent replacement ammo to make me whole. Very good to deal with. I called them and answered a few questions, sent them pictures of the box they came in, and they sent the 2 boxes that Fedex had lost. Will definitely buy from them again.

posted on by Feral

Great website! The info and ammo test results are extremely helpful. Pricing is great. Shipping time was faster than anticipated. The quality of this ammo, the pricing and service will have me ordering more.

posted on by Mary S

I love this ammo. The turnaround time exceeded my expectations.

posted on by Shun

I love this choose of ammo, hands down

posted on by North Woods

The ONLY 9mm Defensive ammo I will load in my carry pistols.

posted on by Papatom53

My top choice for personal protection ammo. Accurate, feeds and ejects flawlessly and 100% reliable out of my S&W M&P Shield

posted on by Cybertek

This stuff is awesome! One of the best out there.

posted on by Joe M

Fast shipping, ordered on sunday evening and received tuesday morning. Good ammo, No problems feeding

posted on by Tony N.

High quality round, smooth feeding, clean burning, leaves minimal fouling. Very reliable and with only moderate recoil in subcompact pistols like the M&P Shield and Glock 26. I like the 124 grain standard pressure version the best of the HST variants. Quick shipping from Ammo To Go was icing on the cake.

posted on by Aa

Exactly what I wanted exactly when they said it would arrive ordered on a Sunday night got here on a Wednesday night. Thanks ammotogo!

posted on by AndyW

HST was my duty ammo on the job for years, and I carry it now, since retiring. Never had a hiccup with it in any of my weapons. My little Sig P365 loves this ammo in 124gr.

posted on by Lou

After 39 years in law enforcement, I have had tested many brands/bullets/weights/etc of ammo. Testing was not in aa lab, and some would say not scientific. I say I compared many rounds and HST always performed the best. Carried it on the job, and carry it now as LEOSA. HST and Gold Dot are the best. (HST first). Look at YouTube for many, many tests. You'll see!

posted on by User

Cant recommend it. Loaded a mag and chambered it in my CZ 75BD, slide was stuck when i wanted to do a chamber check, had to remove the slide with the round in the chamber. thats not good. To clarify, i have fired 1000 rounds of cheap FMJ ammo with one malfunction and 100 rounds of entry level JHP magtech ammo with no malfunctions, but this is really not great, for some reason this will not work in some chambers, maybe a Glock will do, but here it didn't work, which is sad considering how expensive it is. Also a round jammed the magazine, never had this issue with FMJ ammo. To clarify this was my experience in a high quality 9mm firearm, maybe it was a bad lot and you might have a different experience, but depending on what gun you have you might want to switch to a different HP round with a smaller hole in the tip

posted on by JOE SCHMIDT

Top shelf carry ammo. One of the very best.

posted on by Stan

Love this ammo. Ballistics of this ammo (1150 FPS/364 lbs) is the same as American Eagle 9mm 124 grain FMJ. Great to know the results of my practice on the range will be the same with my carry ammo.

posted on by anthony

love this ammo. use it in my H&K vp9 and my wife's springfield armory XDS. Super accurate consistant expansion,penetration,and above all super reliable.what more could you ask for ?

posted on by Gunner 1968

124 HST 9 mm H.P. Is all I use in my S&W Shield, this Ammo is Great!!!!