Gel test Results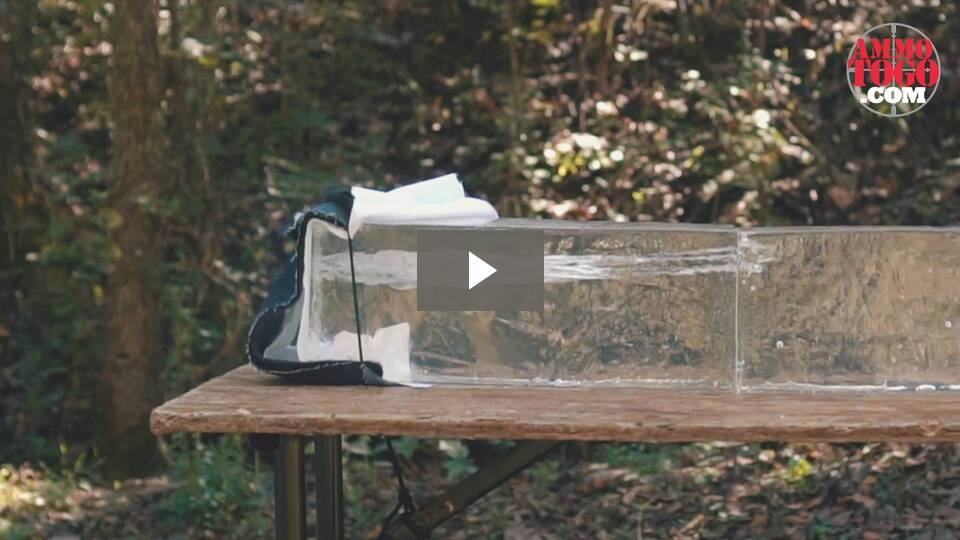 As you hunt for the best self-defense 45 ACP (Auto) ammo, we thought you might enjoy seeing the results of some testing we recently conducted with calibrated Clear Ballistics gelatin.
We shot five of these Remington Ammunition rounds through a four-layer cloth barrier using a Ruger SR45. The results are detailed in the video you see above as well as the photographs. Through the charts, you should get a great idea how this Remington Ammunition ammo stacked up relative to other 45 ACP (Auto) ammo products available to American shooters.
To get a better sense of our tests, be sure to check out all the protocols we followed when conducting our tests to determine the best self-defense ammo.
25rds - 45 ACP Remington Golden Saber 185gr. +P HP Ammo Gel Test Results
Median
Bullet Depth

(in.)

15.3
16.5
16.6
16.7
17
Expanded Diameter

(in.)

0.69
0.73
0.73
0.76
0.76
Bullet Weight after shot

(gr.)

181.9
182.3
184
184
184.6
Bullet Velocity

(fps)

1061
1094
1097
1098
1129
Review
Reviews
Leave a Review
posted on by Reb Tyree

"Remington Golden Saber, 185 grain +P ammo" is my go to 45 acp carry ammo! I have carried this ammo in my 1911's Colt models Gov't and Commander, Kimber Custom, TLE and Pro Carry and Glock models 21 and 30, I've carried this ammo in all types of environments, from desert conditions in sand and dust storms to the Mountains while crossing streams and have gotten the ammo wet and also submerged in water. The ammo still functioned reliably! I have fired the Remington Golden Saber ammo on the night range qualification course, with no issues with the muzzle flash! The recoil is less than the 230 grain +P ammo. I've had no jacket separation issues. This round penetrates well and has great expansion to almost 3/4 of an inch in my testing. I've used other brands of ammo but always come back to the "GS." I trust Remington Golden Saber ammo as my carry ammo!

posted on by Clayton

Very accurate in para ordnance w/ 3.5 and 5 inch barrel. Clean shooting.

posted on by EARL CHAMBERS

Have used this for years as a combat round

posted on by Craig Adams

Never jams. period. My first .45 carry was a S&W 457 which couldn't feed Hydra-shoks. These fed flawless. My current .45 is an HK USP Compact that has had jams with Gold-Dots. Again,the Golden Sabers fire perfect and without issues. Hard hitting and 100% reliable. Also,185 grain +P recoils MUCH less than 230 +P.

posted on by Rodney Hoover

This ammo feeds flawlessly through my 3" barrel Para Nitehawg as well as all of my 1911 government models. I like the nickel plated cases as some competitors use a brass that has caused feeding issues with my double-stacked magazines. IMHO, there isn't a significant difference with the "flash supressed" powder when shooting a 3" barrel. There is a highly visible muzzle flash when shooting at night, and this has proved unavoidable regardless of which brand of ammo that I'm shooting. I honestly don't believe that this would be an issue for most people armed with an "up close and personal" self-defense weapon. Golden Sabre .45+P is a very reliable and accurate round in which I have complete confidence for my concealed carry protection needs.

posted on by Ken del Valle

After more than forty-five years shooting the .45 ACP I am delighted with this round. It is very accurate and moves very fast at 1140fps. and 485 ft.lbs. I get ten out of ten in the black circle at 30 ft. It is also good for point shooting up to about twelve feet. And... it has a real muzzle flash. Super good in four inch barrels. I have shot it out of 1911's, five and four inches. XD's both four and five inches as welll as a 220 Sig. Exellent performance every time. Great SD round. This and the Speer GD 200 grain + p are the best two .45 ACP's around for fighting rounds. However, Federal's 230 grain Hydra Shok is the number 1 rated man stopper -- wish they had all been around back when I was working.

posted on by Daniel Taylor

Feeds perfectly in my 3" Kimber. Also, I like the fact that like military ammo, the primers are sealed with lacquer - an extra margin of protection if events unfold unexpectedly and everything gets wet. Next, I like the Nickel plated cases and the accuracy is better than expected on a HP round.<br />
<br />
Separately, the marketing literature on this product says that the powder is flash suppressed - not my experience. In fact one attribute of this round is that is has more flash than any round I have fired. Having said that, if I can put three rounds in my target, and give away my position with muzzle flash I simply don't care. In fact, after three rounds on target, I'll give the target my name, address and social security number. The other side of the coin is that if the flash impairs night vision this could be a big problem for some operators. This is because the loss of night vision may limit the likelihood of getting three rounds on target.