About Us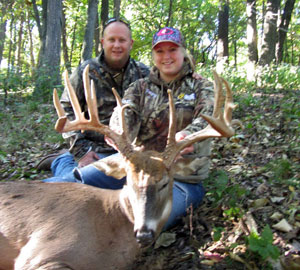 Following a rich Texas tradition, the people at Ammo to Go enjoy the outdoors, hunting, fishing and adventure. The owners Jason and Jennifer Smith are avid hunters who enjoy hunting deer, dove, and ducks, some of the most popular game animals in the area. The couple even had a hunting honeymoon together! Everyone at Ammo to Go enjoys using the products they sell, and their specialty is making it easy for their customers to get the ammunition they need quickly.
Jason and Jennifer are involved in local conservation efforts, including the Coastal Conservation Association and Ducks Unlimited. They focus their advertising efforts on hunting and fishing magazines, and have recently added to their television advertising lineup with ads on Trophy Hunters TV, Dropped - Project Yukon, The Outdoor Channel, Craig Morgan All Access Outdoors, Addicted to the Outdoors with Jon and Gina Brunson, Beyond the Hunt with Rick and Julie Kreuter, and Primos Truth About Hunting. Ammo to Go sponsors top MMA fighters who have a great work ethic and provide a positive role model. Ammo To Go also sponsors Hunt with Heart, giving children battling severe illness the opportunity to have amazing outdoor adventures.
Ammo to Go has steadily grown over the years, evolving from a two car garage into a busy ammunition warehouse based in Brenham, Texas. This family owned business carries the most popular brands of ammunition, including Remington, Winchester, Hornady, Federal, and many more. The selection of specialty ammunition is unmatched, with a full line of Incendiary, Raufoss, and Tracer ammunition. With over 3000 items in stock, and more being added every day, we can meet the needs of customers interested in hunting, personal defense, or law enforcement ammo. Ammo To Go is your one stop shop for all your ammo needs!