A side by side look at two of the most popular pistol calibers on the planet, 380 ACP vs. 9mm Luger.
When it comes to well-balanced, affordable ammunition that is useful for even novice handgun owners, the 9mm Luger and .380 ACP (also known as the .380 Auto, among other nicknames) are two of the most popular. That popularity leads to a lot of debate in the gun community. Stick around a gun shop or an online gun forum long enough and you're bound to get tangled up in a 380 vs 9mm discussion as shooters weigh the merits of each caliber.
These rounds have a lot in common. Shooters use them both primarily in semiautomatic handguns. Both calibers have bullets of .355 inches in diameter, and both, thanks to a compact size yet reliable performance, are often recommended for concealed-carry purposes. Both calibers hit the market in the first decade of the 20th century, yet remain prominent more than 100 years later.
With so much in common, it can be tough to choose the right one for your shooting purposes, but with a little research and some thought about your personal needs, you can make the right choice.
| | 9mm Luger | .380 ACP |
| --- | --- | --- |
| Released | 1902 | 1908 |
| Bullet Diameter | .355 inches | .355 inches |
| Rim Diameter | .392 inches | .374 inches |
| Case Length | .754 inches | .680 inches |
| Total Length | 1.169 inches | .984 inches |
| Bullet Weight | 100 to 150 grains | 90 to 100 grains |
Price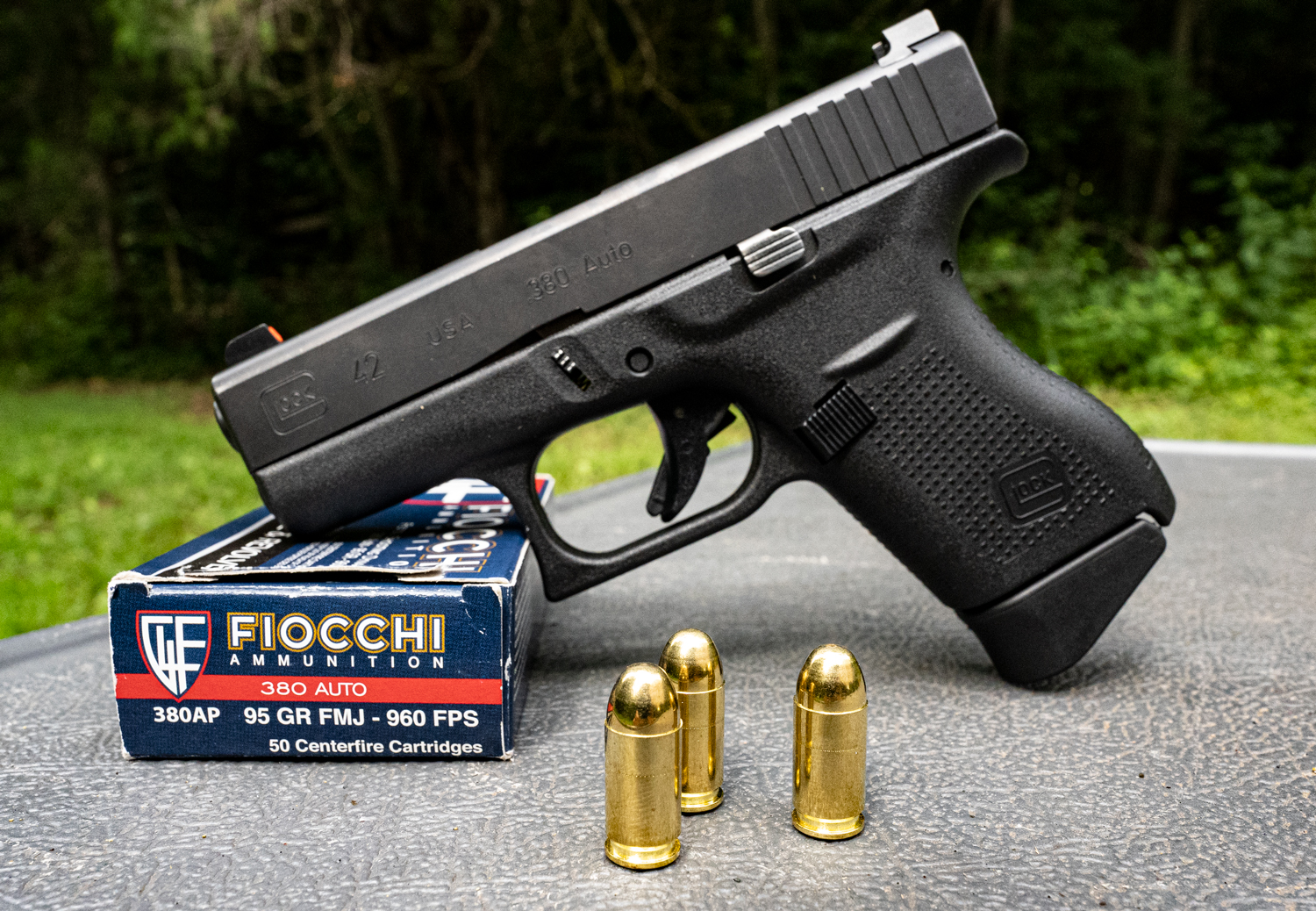 When it comes to pricing, these two cartridges are essentially the same. They are both affordable rounds that are readily available in most well-stocked ammunition stores. Almost all major manufacturers produce both calibers.
If price is a primary concern, 9mm Luger ammo might have an edge here. Militaries all over the world use 9mm so bulk production is common. 380 ACP doesn't enjoy that luxury so you'll often pay a small premium for full metal jacket range rounds.
Winner: 9mm Luger
Length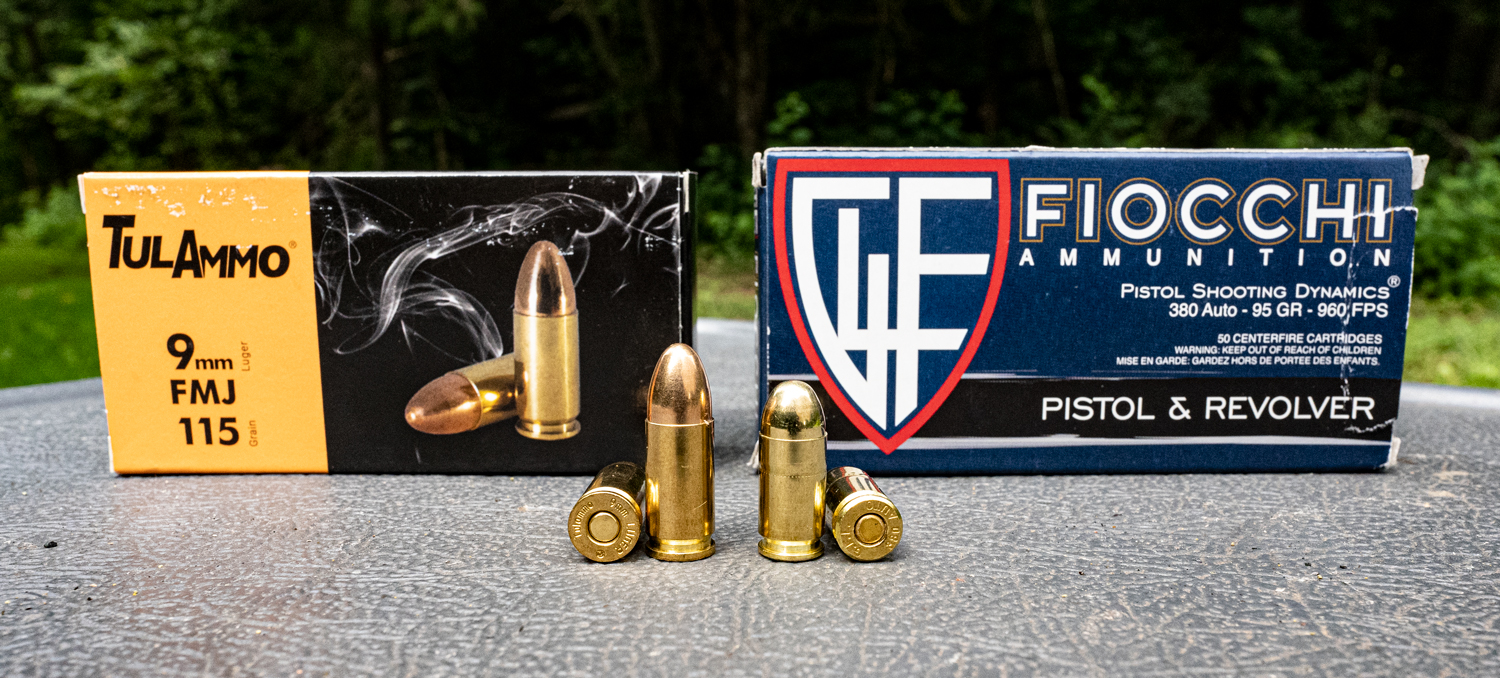 When looking at these two cartridges side-by-side, you'll immediately notice a length difference. While they have essentially the same diameter, the case on the 9mm Luger is clearly longer, which allows the cartridge to pack more propellant behind the bullet.
Winner: 9mm Luger
Bullet Weight
If you go to the store and pick up two random boxes; one a 9mm Luger and one a .380 Auto, you're all but guaranteed to see that the 9mm packs a heavier bullet. There is some overlap, but in general the 9mm Luger has heavier projectiles than the .380 ACP.
Winner: 9mm Luger
380 vs. 9mm Ballistics
Velocity
Ammunition
Muzzle Velocity
Velocity at 50 Yards
9mm 115 GR XTP
American Gunner (Hornady)

1,155 fps
1,038 fps
380 ACP 90 GR XTP
American Gunner (Hornady)
1,000 fps
912 fps
9mm 147 GR FMJ
UMC (Remington)

990 fps
941 fps
380 ACP 95 GR FMJ
UMC (Remington)

955 fps
860 fps
9mm Luger 115-gr HP
Gold Dot (Speer)

1,210 fps
1,071 fps
.380 ACP 90-gr HP
Gold Dot (Speer)

1,040 fps
947 fps
Velocity is one of the most important factors for overall performance. You can see from the stats above (and you perhaps already assumed from the case-length differences), the 9mm Luger is clearly the faster round. 9×19 sometimes having muzzle speeds close to 200 feet-per-second faster than the .380 Auto.
Even with significantly heavier bullets (see the 147- and 95-grain UMC rounds from Remington), the 9mm Luger maintains higher speed ratings.
Winner: 9mm Luger
380 ACP vs. 9mm Luger: Energy
Ammunition
Muzzle Energy
Energy at 25 Yards
9mm 115 GR XTP
American Gunner (Hornady)

341 ft-lbs
275 ft-lbs
380 ACP 90 GR XTP
American Gunner (Hornady)
200 ft-lbs
166 ft-lbsa
9mm 147 GR FMJ
UMC (Remington)

320 ft-lbs
289 ft-lbs
380 ACP 95 GR FMJ
UMC (Remington)

192 ft-lbs
156 ft-lbs
9mm Luger 115-gr HP
Gold Dot (Speer)

374 ft-lbs
293 ft-lbs
.380 ACP 90-gr HP
Gold Dot (Speer)

216 ft-lbs
190 ft-lbs
Most shooters don't consider the 9mm Luger a "high powered" cartridge. If you're seeking tremendous energy, the .375 Magnum, 10mm Auto, and .45 ACP (to name a few) are usually the better choice. But in this comparison, the 9mm Luger clearly has higher energy ratings. This is a result from two important factors: the larger case length and heavier bullets.
In our comparisons, all three 9mm Luger rounds were well above 300 foot-pounds (ft-lbs), with the 115-grain Gold Dot reaching 374 ft-lbs and maintaining almost 300 ft-lbs after 50 yards. 380 ACP ammunition can certainly do a significant amount of damage, and remains extremely effective for personal defense, but in this comparison it loses to the 9mm Luger.
Winner: 9mm Luger
Trajectory
Ammunition
Drop at 50 Yards
Drop at 100 Yards
9mm 115 GR HP
Gold Dot (Speer)


-.8 Inches
-8.2 Inches
380 ACP 90 GR HP
Gold Dot (Speer)

-1.2 Inches
-10.8 Inches
9mm 115 GR FMJ
American Eagle (Federal)


-.9 Inches
-8.7 Inches
380 ACP 95 GR FMJ
American Eagle (Federal)

-1.6 Inches
-13 Inches
9mm Luger 115-gr HP
Gold Dot (Speer)

374 ft-lbs
293 ft-lbs
.380 ACP 90-gr HP
Gold Dot (Speer)

216 ft-lbs
190 ft-lbs
Unlike rifle ammunition, manufacturers rarely list trajectory data for their handgun ammo. However, one manufacturer we cited does: Speer. Since one comparison is such a small sample size (to be fair, three is also small), we added American Eagle ammo from Federal, which also provides range data. Once again, we see the 9mm Luger outperform the .380 ACP. It has less drop at both 50 and 100 yards, which suggests it could be more reliable for long-distance target shooting.
Winner: 9mm Luger
Recoil
Compiling data on recoil is difficult, but it's reasonable to assume (and generally accepted) that the .380 ACP is slightly easier to handle. The 9mm is known for smooth operation, but if light recoil is a top priority, the .380 ACP could be your best choice.
Ammunition Capacity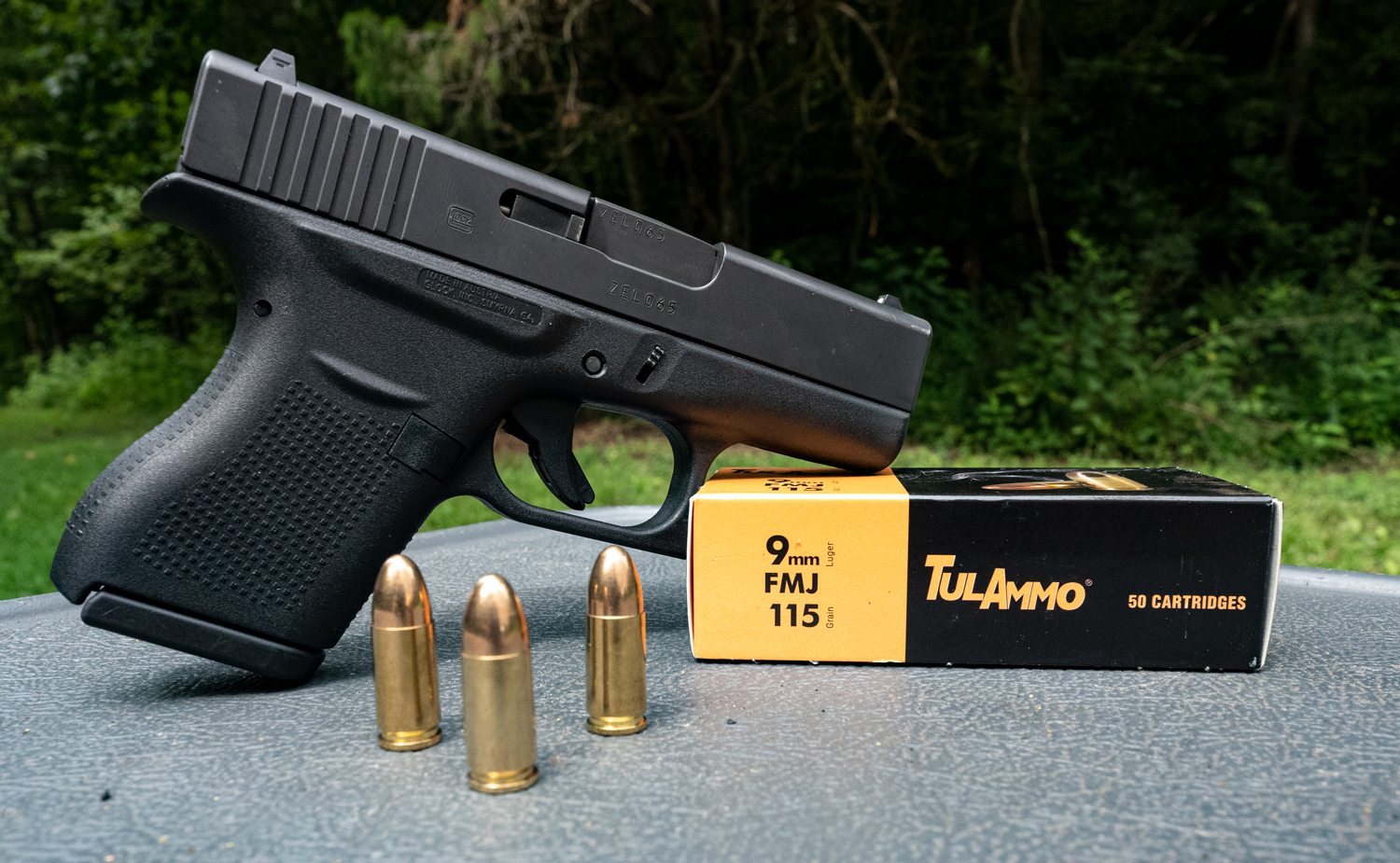 Both of these rounds are used across the country for personal protection, including home defense and conceal-carry purposes. For this reason, load capacity (the number of rounds you can carry in one magazine) is a significant concern for many people choosing the 9mm Luger or .380 ACP. Self-defense trainers and experts will tell you, it's not uncommon to need multiple rounds on target to stop an attacker.
Firearms chambered for the 9mm Luger are more readily available. So, it's logical that you'll have an easier time finding guns that can loan more 9mm ammo. Most of the .380 ACP handguns found in display cases pack about 7 to 9 rounds total, while you can easily find 9mm Luger handguns that pack 15 to 20 rounds at a time. 
Better for Self Defense?
380 vs. 9mm Ballistics Gel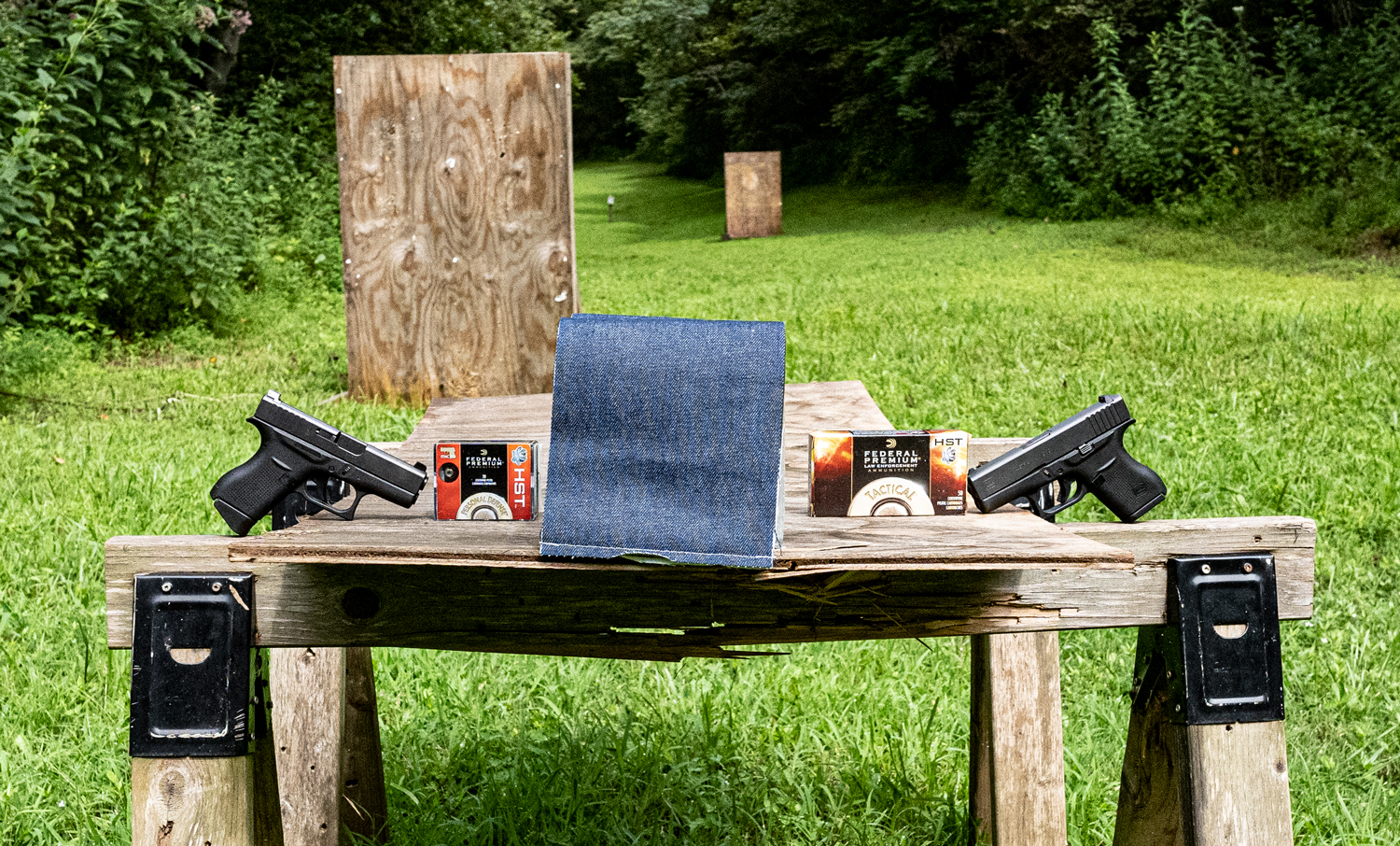 To get an idea of which round is better equipped for self-defense, we took some Federal HST ammo to the range (99 grain 380 ACP rounds and 124 grain 9mm rounds.) We fired rounds through a 4-layer cloth barrier into Clear Ballistics gelatin. Our testing protocol followed similar procedures to how the Federal Bureau of Investigation tests ammunition.
For our tests, we used a Glock 42 and a Glock 43. We attempted to pick incredibly similar firearms so we could attempt to isolate the caliber as the primary variable.

Penetration Power
Our test results for this article were quite similar to what we saw from these loads when fired with other concealed carry pistols. The 380 ACP did well and actually falls within the FBI's penetration guideline of 12-18 inches (12.4″). Our 9mm test shot penetrated slightly farther. It traveled to the point where it slightly exceeded the FBI's penetration recommendation. Our round traveled 18.6 inches.)
Expansion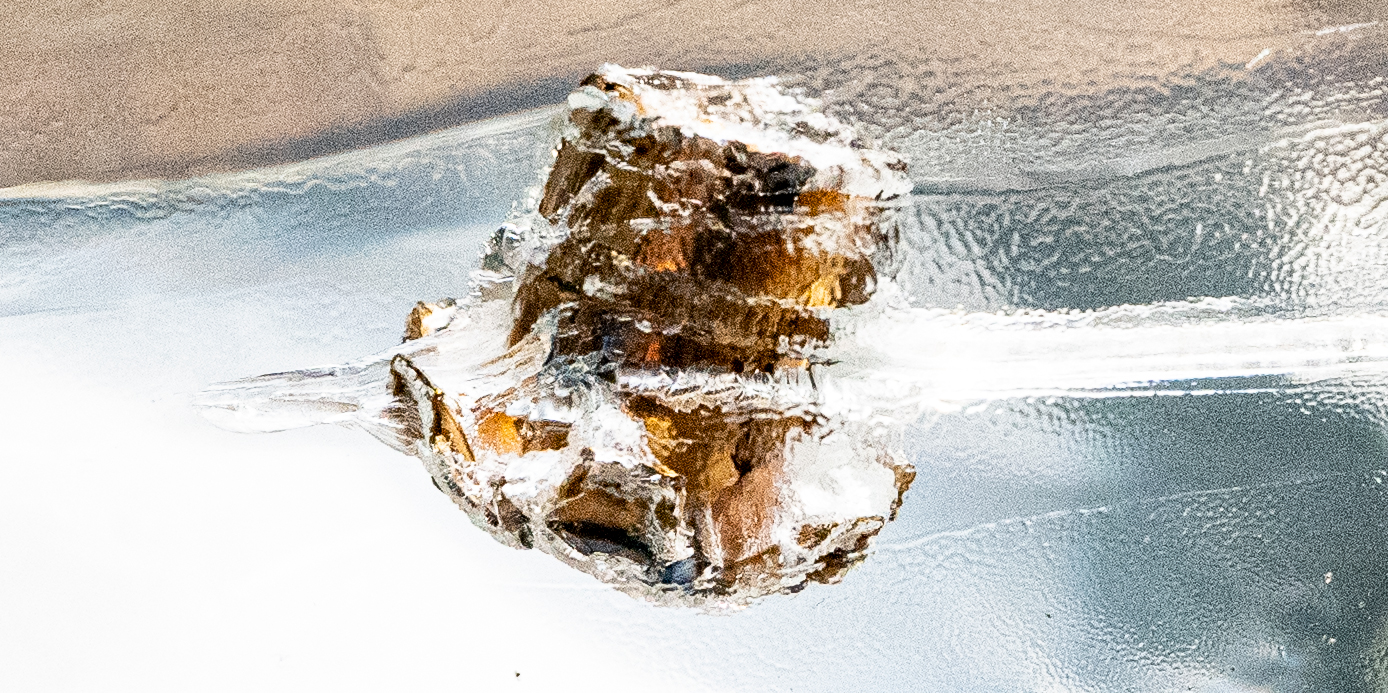 When it comes to expansion, our 9mm came in with about .62 inches of expansion. The 380 ACP was close. We measured it and found .59 inches of total expansion. Of course, the more expansion the better when it comes to neutralizing a threat or "stopping power." In this Federal HST testing, most shooters may find this difference between 380 Auto and 9mm negligible. Of course, this is a specific data set with this combination of firearms and ammo. Change your pistol's barrel size and you could see different results.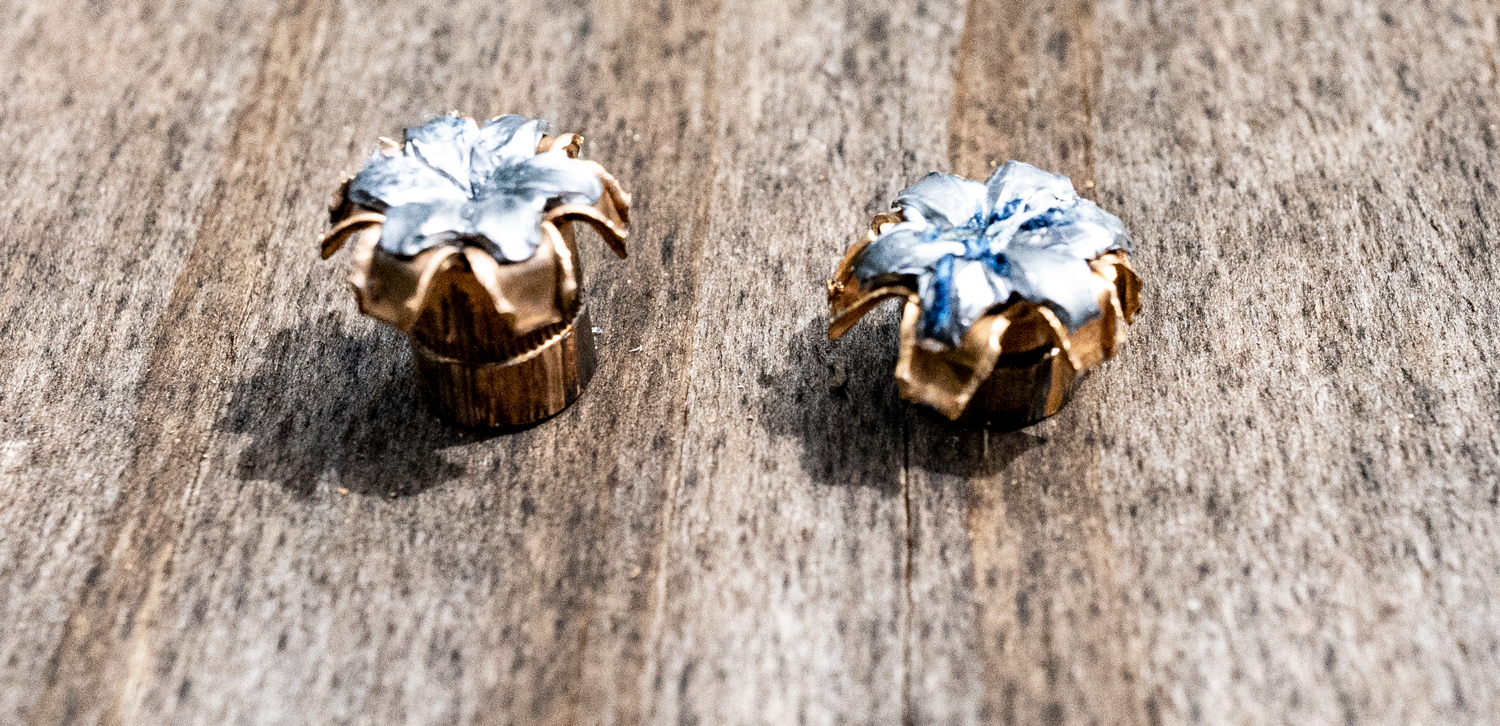 If you want to get a pulse of how other ammo performs in each, we conducted dozens of gel tests like this with both 9mm and 380 ammo. You can see the results in our best self-defense ammo study.
380 ACP vs. 9mm Luger – What's Best For You?
Selecting the right cartridge for target shooting and personal protection can be difficult, especially with two ammo choice that, while different, have numerous similarities. Ultimately, you can't go wrong in the 380 vs 9mm debate. Both will deliver the smooth performance and reliability you desire from a handgun round.
But if you are concerned with recoil, or simply want a small handgun, the .380 ACP may be the best choice. However, if you think you may enjoy testing your weapon and your marksmanship at 50 or even 100 yards, the 9mm Luger will likely keep you happy.