There is a lot of talk about holsters for urban carry but what's your best option if you're the type of shooter looking for a holster best equipped for a long hike? We examined a few options so you know where to start on your search for the ultimate hiking holster.
Handgun holsters come in many styles for many different activities, but there is only one that works best for hiking for extended distances.  People often consider different handgun holster options for more common situations such as for personal protection in public urban places, or for activities like target shooting practice at the range. Though I feel that most people do not often consider different handgun holsters for a more long-term situation, like hiking for extended distances with a backpack on whether for outdoor recreation, hunting, or the potential "bug out" situation.
While what exactly is the "right" holster is definitely a matter of opinion, having just the right holster for the job is more than a necessity. There is also a science to these things, so I field-tested four different style holsters while hiking through the mountainous terrain of the Colorado Rockies.
I've spent over 20 years rock climbing and backpacking recreationally. I've also worked as a rock climbing guide and United States Forest Service Wilderness Ranger, so I know what it feels like to carry a heavy pack for miles on a trail. I also know how one slightly uncomfortable or badly functioning piece of backpacking gear can have debilitating effects on the body, especially while hiking over long distances. With ample experience backpacking and hiking, I've had the opportunity to test out a lot of backpacks, but this was my first time trying one out with handgun holsters. I'm excited to share with you what I found.
About The Field Test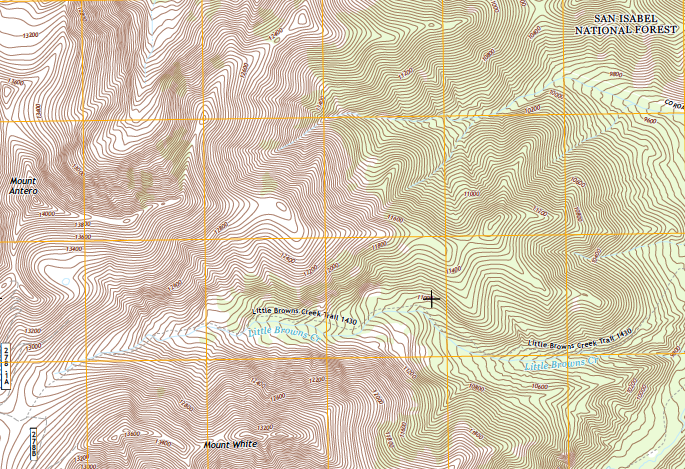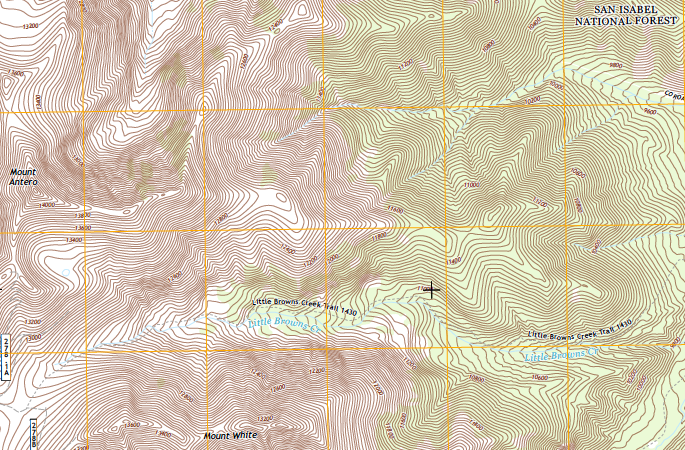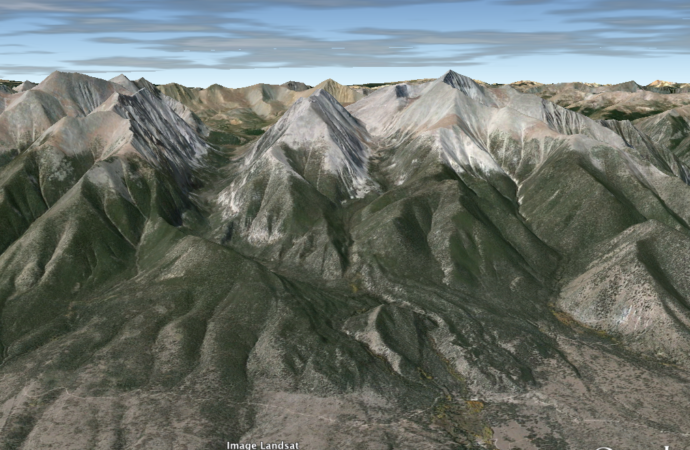 I conducted my field test in San Isabella Forest, in the foothills along the base of the Collegiate Peaks in the Sawatch Range in Central Colorado. The August day was warm and thunderstorms rolled in and out of the area every hour or so. I tested by hiking along a 1/8-mile section of the trail with a couple hundred feet of elevation gain/loss. On this section of trail I hiked both directions, while carrying my 9mm Glock 19 Gen4 in each of 4 different holsters styles for a total of 4 round trips, or a 1/4-mile for each holster for a total of 1 mile.
I hiked both directions, so that I could get the effects of hiking both uphill and downhill. This 1/8-mile of trail was over easy and rocky terrain, and through open pine forest with intermixed aspen groves.
In all, I tested four holsters:
A shoulder holster

A drop-leg holster

A locking waist slide holster

A leather non-locking waist slide holster
For the purposes of the test, I didn't use any of the holsters in concealment.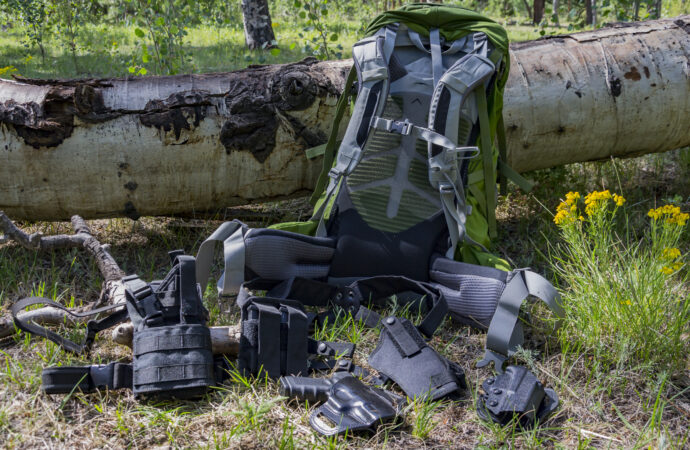 For the hike, I used my 70-liter recreational backpacking backpack as my test pack with about 40 pounds inside. This is a common size and weight for multi-day backpacking.
I tested using my recreational backpack instead of my tactical style backpack because it's more lightweight and ergonomic. I thought this would provide more relevant test results as to how the holster positioning affects the body while hiking. The testing backpack can accept a holster if mounted correctly. I also field tested while using this backpack, because it is commonly used by recreational backpackers and hunters.
Shoulder Holsters for Hiking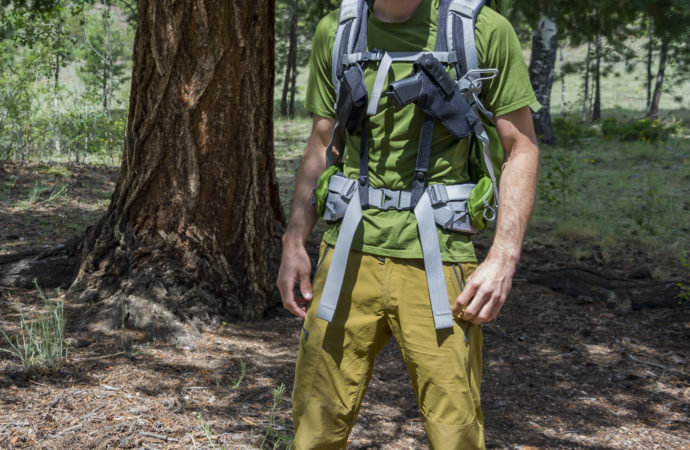 First, the shoulder holster proved to place my firearm and extra magazines at just the right place on the body for drawing. However, there was a tight fit under my arms and the backpack shoulder straps. When I first put the shoulder straps on, I attached the waist belt straps to a stretchy belt directly on my body. Note, I do not wear a regular belt while backpacking in order to cut down on friction between my waist and my backpack waist belt, so this was not an option to connect the shoulder holsters to.
The stretchy waist belt worked fine with positioning, until I put my backpack on. The waist connection straps moved to far out to the side of my waist, allowing my firearm and magazines to get jammed up under my arms and backpack shoulder straps. Instead of continuing to carry in this manner, I removed the stretchy waist belt, and attached the shoulder holster's waist connection straps directly to the waist belt of my backpack. This moved my firearm and extra magazines out from under my arms and more in front towards my chest, making for a much more comfortable and efficient way to carry over an extended distance. Drawing from the shoulder holster with my backpack on felt smooth and ergonomic as well. At first, I thought the shoulder straps would cause problems under my backpack's shoulder straps, though this proved to be quite the opposite and was actually very comfortable. The shoulder holster allowed me to walk as fast as I wanted by giving  freedom to my lower extremities, making for what I feel to be a very good extended distance hiking option.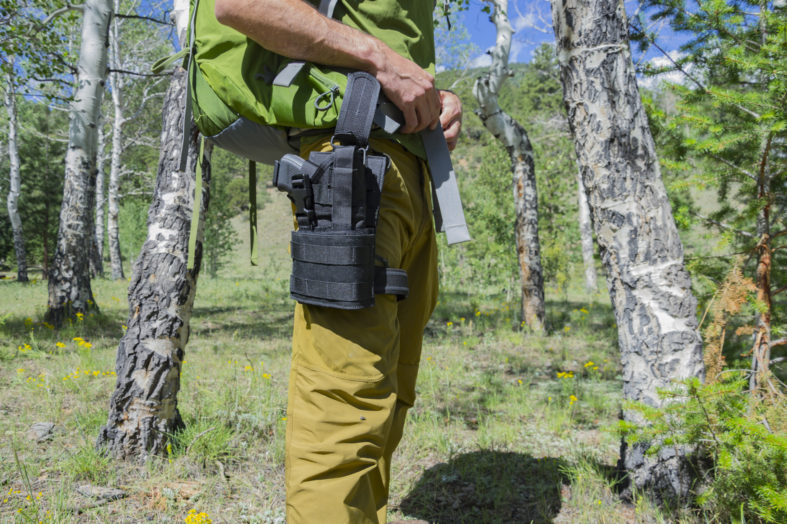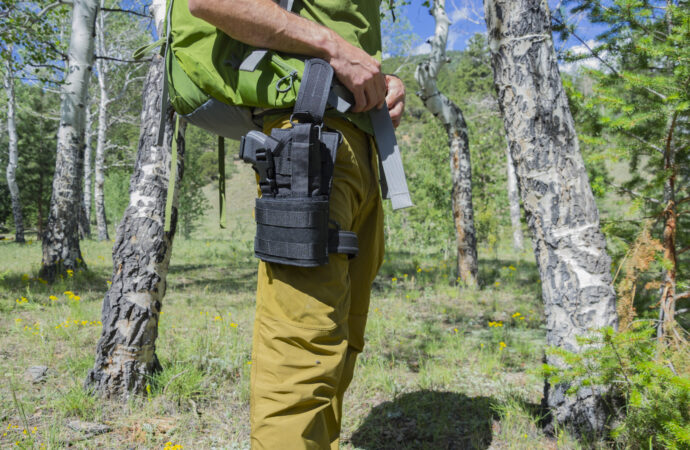 Drop-Leg Holsters & Hiking
Next, I tried on the Eagle Industries configurable drop-leg holster.
The drop-leg holster proved to be in a perfect place to stay out of the way of the backpack, while remaining in an easily accessible place to draw from, though it did have two noticeable flaws. First, it threw off my gait and stride. I'm not a very big guy, so as I took a stride the weight of my firearm carried my right leg faster than my left. I tried slowing my pace, but I then had to put in more effort into picking up my right leg, than if I was taking a fast stride. Either, I moved fast and my stride and gait were thrown off, or I moved slowly and my gait was thrown off. Second, even with a stretchy thigh strap, there was still a feeling of restriction on my hamstring. These might not be problems for someone from  Special Forces, who has lots of training with gun holsters, but as a recreational backpacker, I can say that the leg holster did not feel comfortable while hiking over an extended distance.
Because I don't wear a belt while hiking I attached the waist strap directly to the waist belt on my backpack. This allowed for more comfort, though the holster was attached to my body and backpack individually, making it to where I could not remove my backpack without removing the leg holster completely. Overall, the drawing accessibility was ideal for me. Though I did not feel the drop-leg holster was ideal, when it came to hiking extended distances, and being able to remove the backpack independently of the holster and my body.
Locking Waist Slide Holsters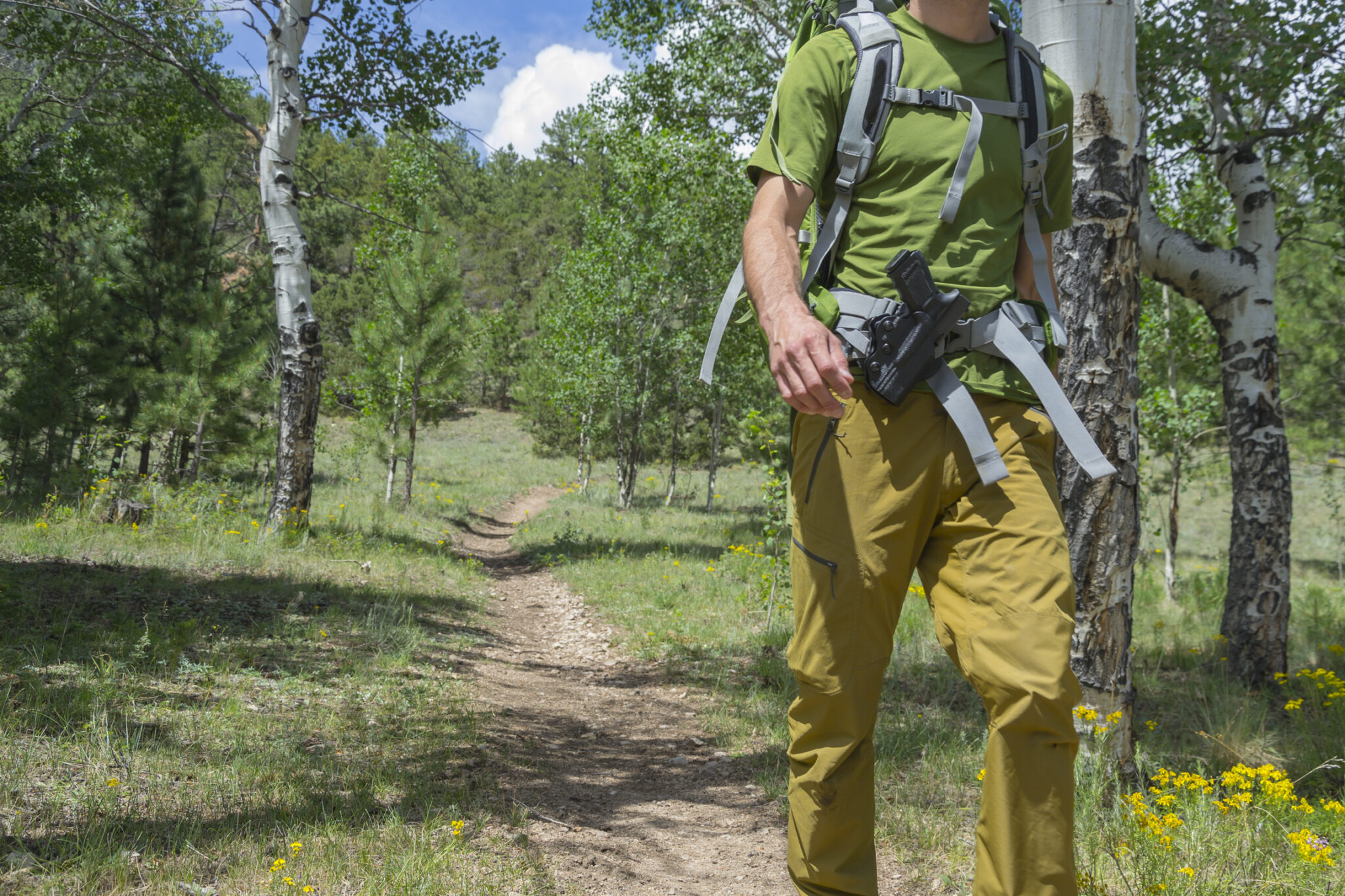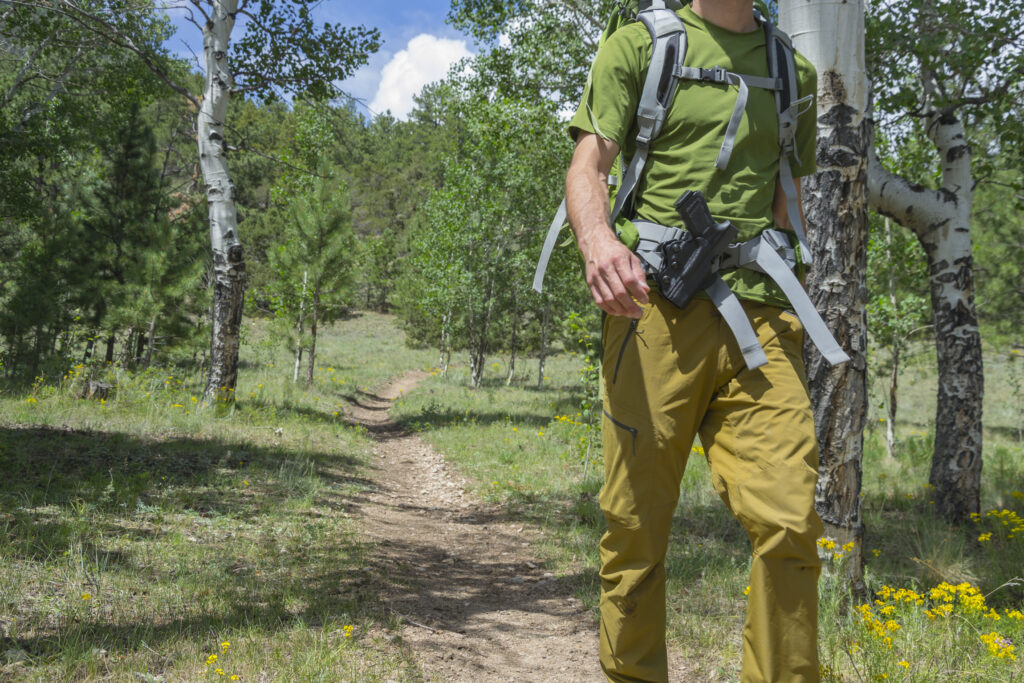 The third holster I tested was the locking waist slide holster, a rig that's pretty familiar to most urban concealed carriers.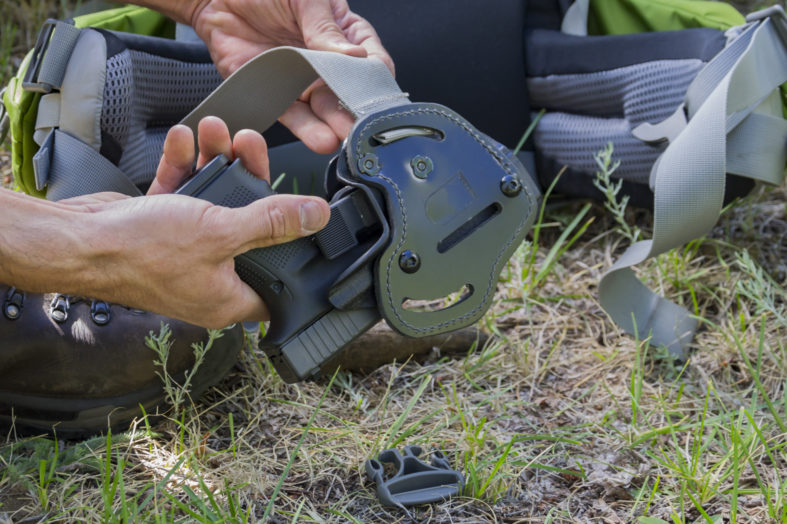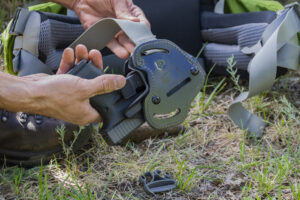 In my experience, the waist is a difficult place on the body to mount a holster while backpacking due to the backpack waist belt covering this area. In order to overcome this, I mounted both the locking and non-locking slide holsters to the waist belt of my backpack. This allowed for the placement of my firearm to be at my waist. Though, unfortunately by doing this, if I removed my backpack, my firearm and holster had to leave my side and my access as well – which could prove a disastrous decision if someone attempted to steal my backpack or something like that.
The locking waist slide holster took less than a minute for me to mount on the waist belt of my backpack. I positioned the holster on my right side waist belt, my shooting arm side.
The holster's belt slots lined up well for mounting to the backpack waist belt, though it did turn the grip of my firearm away from my right hand, making for not as easy of access as I would have liked. Though it wasn't horrible positioning. The holster and firearm felt very stable, and did not move around or cause me discomfort. Placing the weight at the center of my body felt good while taking long strides. Overall, I liked that my firearm was easily accessible, but locked, and was mounted at a good center of gravity on my body.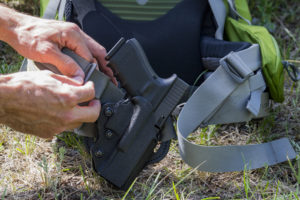 Due to the positioning of this particular holster's waist belt strap slots I was only able to mount it to one side of the backpack waist belt. This means that I first had to place my backpack on my body and then feed each side of the backpack waist belt through the waist belt strap slots on either side of the holster, one at a time, before clipping the backpack waist belt. This required uneasy fiddling with the holster and waist belt, and the mounting did not allow for me to remove the backpack without removing at least one side of the holster as well. In the end, this holster had several flaws for me, making it not even a choice at all.
Last, I tried the leather non-locking waist slide holster.
This holster had a big flaw for me for extended distance hiking, and I'm sure it's obvious that that flaw is that it does not lock the firearm into the holster. I feel that some sort of locking system on your holster is a must while hiking at any distance, though especially with a heavy pack. Without a lock, a small trip and/or fall to the ground could lead to your firearm expelling from the holster and potentially causing a discharge, endangering yourself and others. This could also cause damage to your firearm. I went ahead and mounted the non-locking holster to the waist belt of my backpack for testing.
Different Situations, Different Needs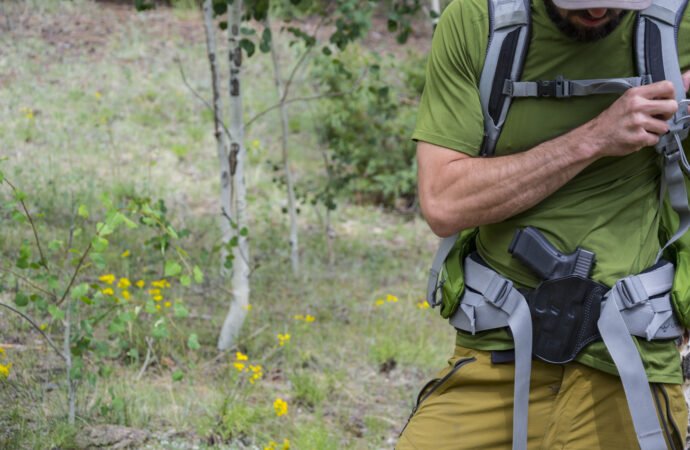 There are different situations where you need to consider different style holsters. For outdoor recreation such as backpacking, say in grizzly country, being able to move fast and efficient, and without throwing off your gait and causing rubbing or blisters is a top priority. You also want easy access to your firearm as in any personal protection situation. This would be the same for hunting in the backcountry with a handgun. Though for hunting, you also want access to your weapon to take down your target quickly and easily.
Another situation you want to consider the best style holster for extended hiking is for the always potential "bug out" situation. Whether you are escaping the devastation of a major earthquake in big city Los Angeles or flooding in Baton Rouge, Louisiana, you will need the right holster for your handgun to accompany you and your, "bug out bag". If you want you and your loved ones to be safe in a "bug out" situation, you will need easy access to your firearm, maneuverability, and the ability to move quickly over extended distances with a backpack on. For many of the same reasons, it's important that you take the time to test holsters yourself. All bodies are different and what's a completely comfortable carry for someone with my stature, may be unacceptable for you.
Hiking for extended distances with a large backpack on takes knowledge of how backpacks work and how the human body functions while doing so. Holstering a firearm while hiking for extended distances with a large backpack on takes knowledge of how holsters work and mount with backpacks, and knowledge of different options for drawing from different holster styles.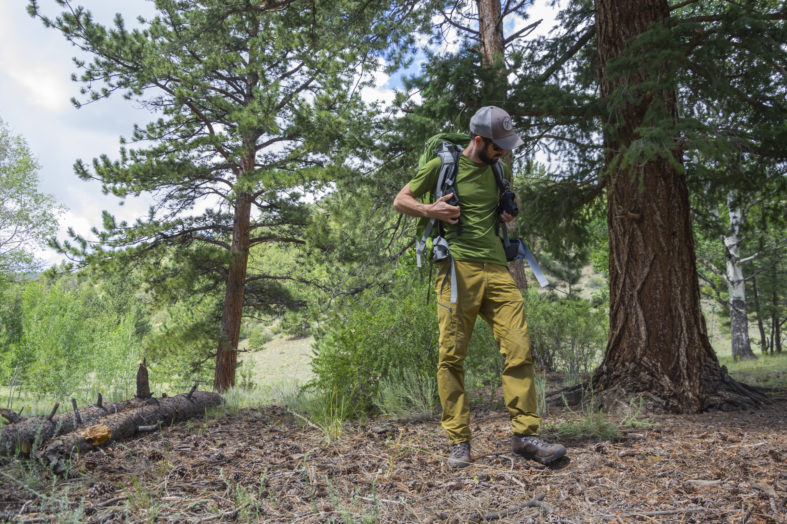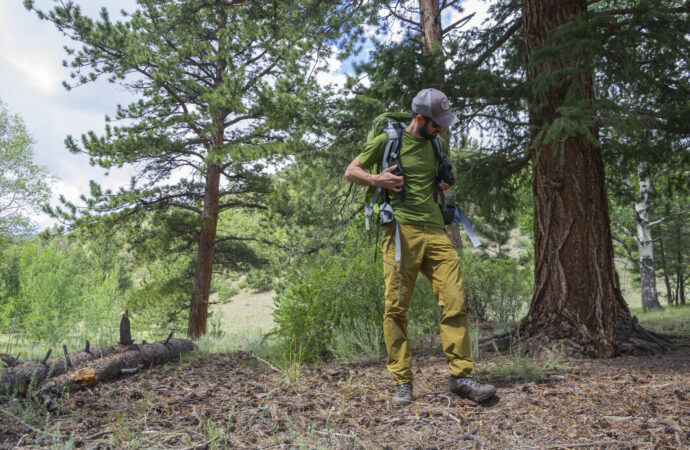 Armed Service members have the specific training and experience to obtain this knowledge. They also have the right holsters for the job. Though, a civilian like me does not necessarily have the training or need to train for hiking extended distances with a holstered handgun, unless we hunt or hike with one often. This is when we must take it upon ourselves to find out which holster works best for us individually. For any extended hiking situation, remember that you need easy access to your firearm, maneuverability, and the ability to move quickly without causing discomfort or pain to your body.
From my testing, the shoulder holster style proved to be my number one choice for extended hiking while carrying a large backpack. Though for shorter distances such as a day hike, the drop-leg holster works great. Drawing accessibility, ergonomic feel, and the freedom of motion to my legs all proved the shoulder holster to be my number one choice as the best holster for extended hiking.