John Wayne's career in film is undeniably the stuff of legend. While he had the pleasure of working alongside some of Hollywood's leading ladies of his generation, he also had a hand on some iconic firearms throughout his career. In this article, we take a look at some of John Wayne's guns in his movies.
Sorry guys, you can't be John Wayne.
And women, well, "Duke" died in 1979. So, you can't have him either.
But there's good news for all: you can shoot like him…or at least shoot the same firearms and cartridges that he pretended to shoot in his movies!
As any American worth their salt knows, John Wayne's movies were loaded with firepower. Arguably the most iconic American actor of all time packed some serious heat in his films. While we can't go over every weapon and cartridge used in all Wayne movies (he appeared in nearly 250 films), we can look at some of the guns used in a handful of his films.
As you might expect, Wayne's career had a healthy dose of firearms chambered in mil-spec calibers as well as those most commonly associated with the wild west. If it was ammo synonymous with revolvers or lever action rifles, Wayne probably handled it at some point.
After reading, you can pick up a box of shells and shoot like Wayne himself! (Warning, "Wild West" language in the video clip below.)
Our lawyer insists we recommend not shooting like Wayne did in the clip from True Grit above. After all, you're still not John Wayne!
Stagecoach (1939)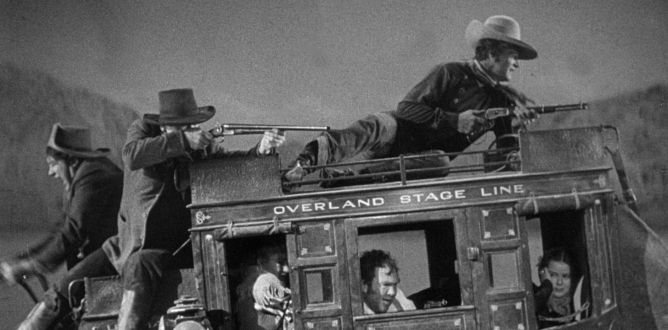 Although John Wayne had already worked in a bunch of films, his breakout role came in Stagecoach, a 1939 movie about a group of strangers traveling on a stagecoach across Arizona and New Mexico. The film is often cited for its visual importance to the western genre. It used Monument Valley, a stunning desert landscape that became the standard backdrop for mid-century westerns.
In the 1880's set Stagecoach, Wayne uses an 1892 Saddle Ring Carbine, which, while an iconic weapon, was not released until 1892 (hence the name.) Despite the timewarp issues, it would have loaded the .44-40 Winchester cartridge.
Firearms / Cartridge Used in Stagecoach:
---
The Fighting Seabees (1944)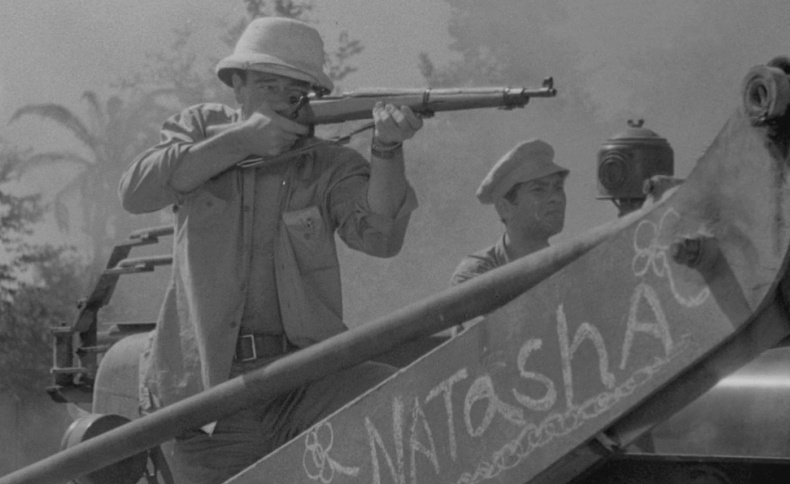 Wayne is best known for his westerns, but he also made a handful of successful war films, including The Fighting Seabees.
In The Fighting Seabees, Wayne plays a Navy construction officer who rallies his troops against the Japanese in WWII. In the film, characters are seen using standard-issue pistols and rifles of the WWII era, including 1911 handguns and Springfield rifles.
The Fighting Seabees Firearms / Cartridge Used:
---
Sands of Iwo Jima (1950)
For this film, Wayne switches military branches and joins the Marines, helping to portray the dramatic, violent, and heroic events on the small but consequential island of Iwo Jima. Sands of Iwo Jima used the same rifles and sidearms that were used by the Marine Corp in the Pacific Theater. That means you'll see plenty of 1911 pistols, Springfield rifles, the M1 Garand, and the shorter M1 Carbine.
Firearms / Cartridge:
M1911 semiautomatic pistol / .45 ACP
M1903 Springfield rifle / .30-06 Springfield
M1 Garand rifle / .30-06 Springfield
M1 Carbine / .30 Carbine
---
Hondo (1953)
Getting back to the genre that made Wayne truly famous, Hondo tells the classic western plot of a lone rider coming to the rescue of innocent and isolated victims; in this case, a woman and her son living under threat from warring Apaches.
This movie featured one of John Wayne's most iconic weapons, a Single Action Army revolver, a gun that became a standard in many of his films. He also used the Winchester Model 1892 lever-action rifle.
Guns / Ammo used in Hondo:
1873 Single Action Army Revolver / .45 Long Colt
Winchester Model 1892 / .44-40 Winchester
---
The Searchers (1956)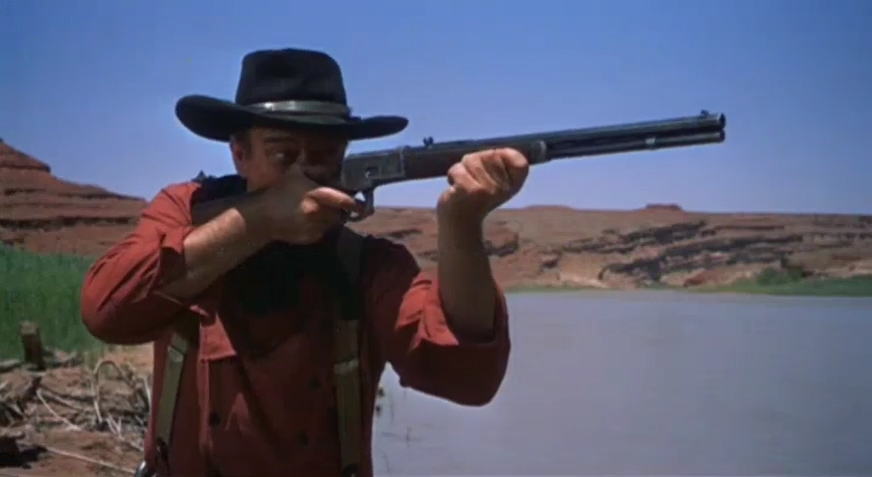 One of the most commercially and critically successful films in Wayne's entire career, The Searchers is considered a masterpiece in the western genre. It features Wayne playing a Civil War veteran searching for his abducted niece. The film once again uses the weapons that would become iconic in John Wayne movies and westerns in general: the six-shooter Army revolver and a classic lever-action rifle.
Firearms / Ammo John Wayne Used in The Searchers:
1873 Single Action Army Revolver / .45 Long Colt
Winchester Model 1892 / .44-40 Winchester
---
McLintock! (1963)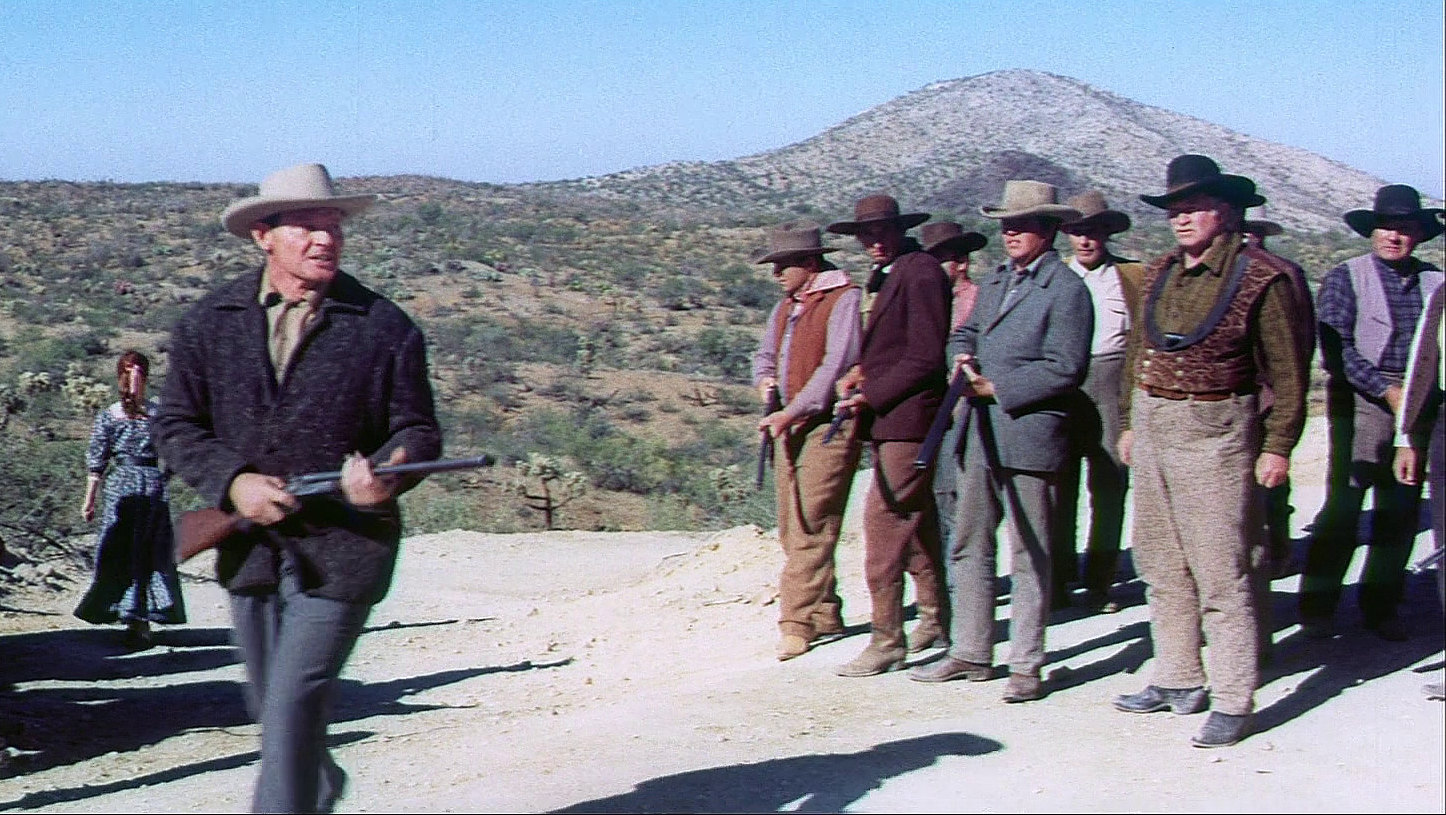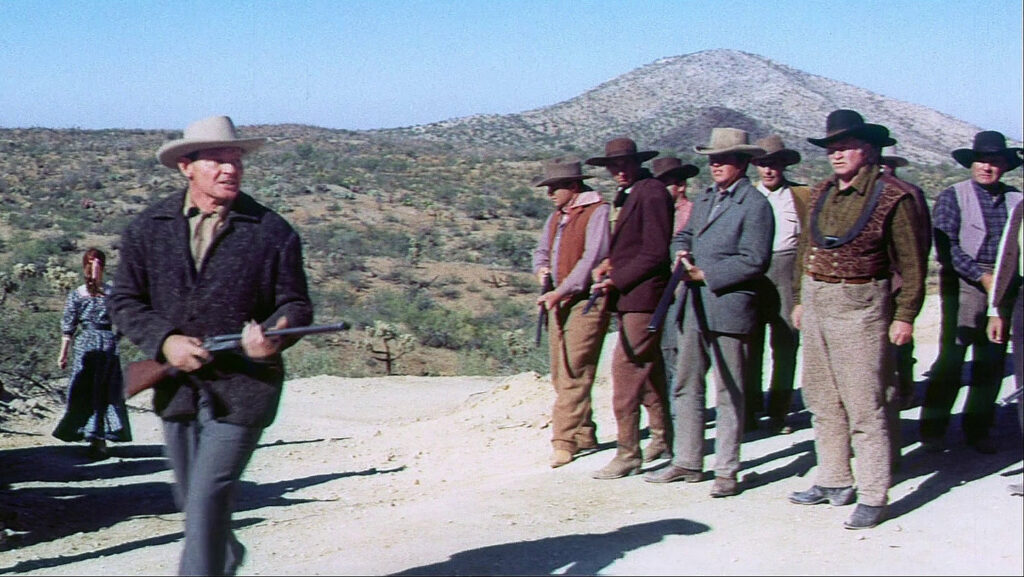 Perhaps the most comedic and light-hearted of all John Wayne's movies, this film brought a lighter side to Duke without betraying his rough, no-nonsense character.
Wayne plays a cattle rancher and all-around businessman George Washington McLintock, whose high-society wife left him years before, without the formalities of a divorce. It's a jaunty comedy draped in the dusty garments of a western, but, like any good John Wayne film, features plenty of firepower for the ammunition enthusiast. Firearms include a side-by-side shotgun that Wayne uses in a hunting scene and Wayne's classic Single Action Army Revolver.
Firearms / Ammunition in McLintock:
1873 Single Action Army Revolver / .45 Long Colt
---
The Sons of Katie Elder (1965)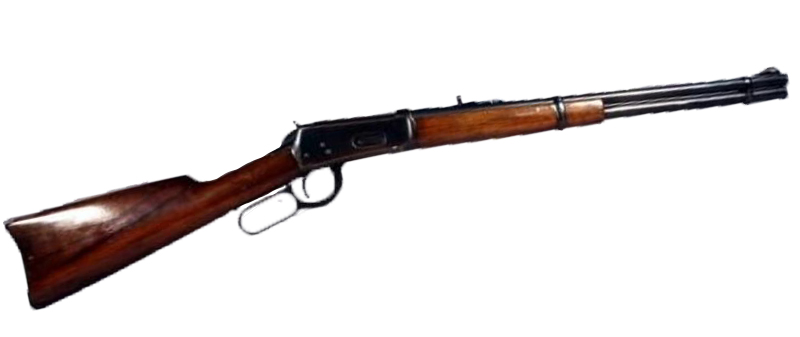 Featuring the dual talents of John Wayne and Dean Martin, this film follows the attempt of a group of brothers who want to avenge their father and do justice for their late mother. In classic John Wayne attitude, they decide to take back the family ranch through their own means. In this film, we see Wayne wielding his famous Army revolver, as well a Winchester Model 1894 rifle, which loaded the famous .30-30 cartridge, one of the most successful rounds in American history.
Firearms / Cartridges of The Sons of Katie Elder:
1873 Single Action Army Revolver / .45 Long Colt
Winchester Model 1894 / .30-30 Winchester
---
The Green Berets (1968)
Few of John Wayne's films had any agenda beyond entertainment, but The Green Berets is notable for its purpose, which was to provide support for the Vietnam War in a time when American enthusiasm of the conflict was dwindling.
Critics hated The Green Berets and anti-war activists protested it, but the film gathered enough support to be a commercial success. It is notable in Wayne's filmography, not necessarily for the quality of the movie, but because it saw a major actor take a largely unpopular stance.
Guns / Ammo Used:
---
True Grit (1969)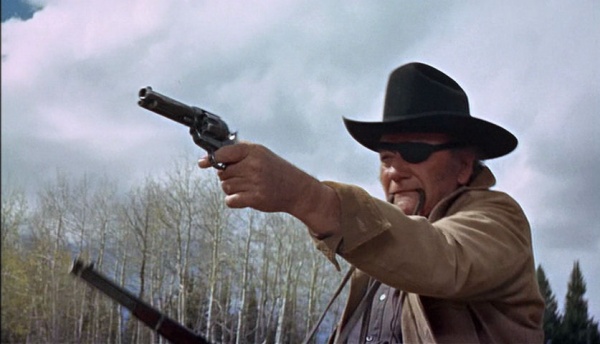 One of the more entertaining films of Wayne's career, the 1969 version of True Grit (there was a 2010 version as well) gave Wayne the chance to play a different type of hero.
While he maintained the rugged toughness, Rooster Cogburn was grumpy and not exactly excited to always do the right thing. In fact, money was Cogburn's only motivation to help a young girl seek revenge on her father's killer (at least at first.) It made Wayne's character more of an antihero than usual. However, we do get the classic Wayne toughness. We also see him wielding his now famous Army revolver, as well as a lever-action with a ring handle. He shoots both at full gallop near the film's climax in a scene that many American gun owners know very well.
Rifles & Revolvers / Ammo used of True Grit:
1892 Saddle Ringe Carbine / .44-40 Winchester
1873 Single Action Army Revolver / .45 Long Colt
Colt Walker (Black powder) 
---
The Shootist (1976)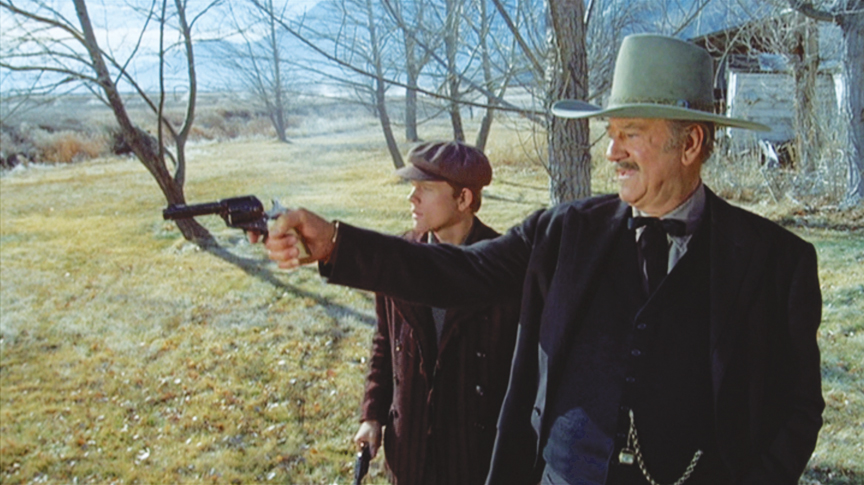 The final film of Wayne's career, this western has an obvious and extremely emotional tie to his personal life.
The Shootist takes place in 1901 and features an aging gunfighter, played by Wayne, looking for one last chance at a swift, glorious death as the western frontier becomes modern and civilized. Western-film mythology states that Wayne made the movie because of a cancer diagnosis but he was actually diagnosed after production. For any John Wayne fan, however, the parallel between the gunfighter looking for his end, and Wayne eventually meeting his, is unavoidable.
Guns / Ammunition:
1873 Single Action Army Revolver / .45 Long Colt
Winchester Model 1892 / .44-40 Winchester
---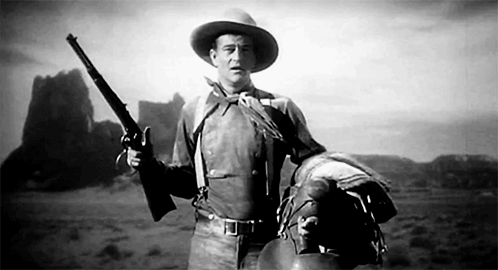 So, what'd what we miss? With hundreds of films on his resume and nearly as many firearms, we know we didn't get to them all. If we missed it, what's the most glaring omission? Also, what's your favorite John Wayne movie and firearm pairing?
Note on sources: For this film, we used information from the Internet Movie Firearms Database, as well as research from various other sources. We also went through a lot of popcorn.