An in-depth look at 22 WMR ballistics, including velocity, energy and bullet drop data for our most popular loads.
A popular rimfire round that's gained a following by some in a self-defense role recently – let's explore 22 WMR ballistics and all this cartridge is capable of.
Quick 22 WMR Facts:
The 22 Winchester Magnum Rimfire is an accurate, low recoil cartridge that is ideal for short to medium range varmint hunting and target shooting.

The 22 WMR's standard 40 grain projectile delivers a muzzle velocity about 60 percent higher than a 22 LR's, and about 2.5 times more muzzle energy.

Available with bullets ranging in weight from 30 to 50 grains.

Several self-defense weapons chambered for 22 WMR are available, including Standard Manufacturing's distinctive S333 Thunderstruck double barrel revolver.
22 WMR Ballistics Chart
More on 22 Magnum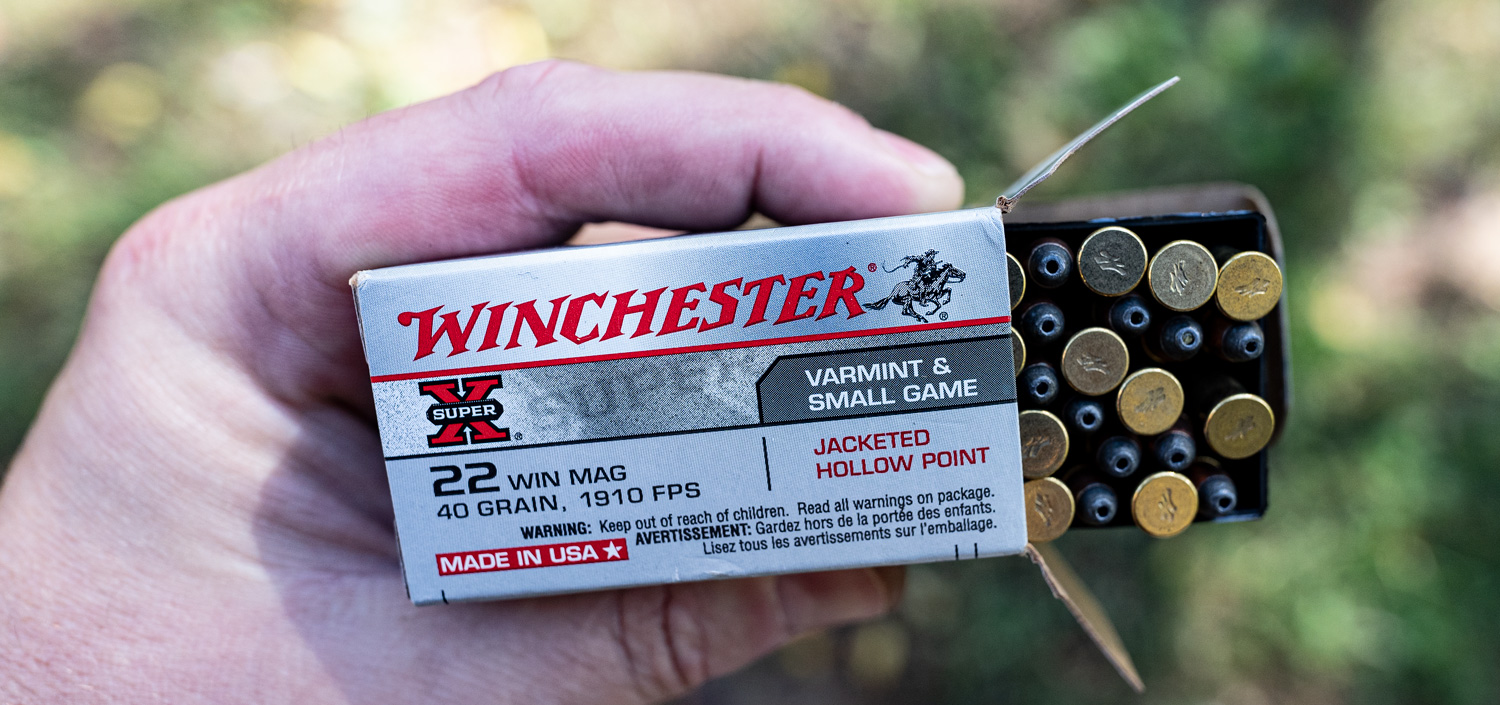 Winchester introduced 22 WMR ammo in 1959, although they only offered a rifle capable of firing it the following year. Marlin beat Winchester to the punch with their Levermatic. That design of which lent itself to simple modification to accommodate the new round's higher chamber pressure.
The 22 WMR essentially performs like a magnum version of the familiar 22 LR. The 22 WMR's casing (which is based on the 22 WRF) is wider and longer than the 22 LR's, and accordingly stores more propellant. This enables it to launch its 40 grain bullet out of a rifle's muzzle at approximately 1,875 fps. Compare that to a 22 LR, which achieves a muzzle velocity of about 1,200 fps, and you'll see at once the flatter trajectory and greater downrange energy that the 22 WMR offers. 
The 22 WMR trounces the 22 LR's numbers at all points throughout both rounds' effective ranges.
A magnum round typically generates greater recoil than its less powerful analog, but in the case of 22 LR vs 22 WMR it doesn't really matter. The 22 LR's recoil is so negligible that it remains negligible when increased.
Other 22 WMR Attributes
The 22 WMR may beat the 22 LR in every aspect of performance. But don't forget – the 22 LR is still the king of affordable shooting. For that reason alone you may prefer to save money with the universally beloved older cartridge.

Bolt-action, pump-action, lever-action, single shot, semi-auto, revolver, and even 410 Bore combo — if you can conceive a type of firearm, you can nearly certainly find it chambered for 22 WMR.

The 22 WMR has an effective range of approximately 125 yards. Nevertheless, there are absolute maniacs out there with the skills to increase its range to several hundred yards. 
Never, ever load a smaller 22 LR in a firearm chambered for 22 WMR. While they may superficially resemble one another, the 22 WMR rifle's chamber is larger. It could cause an explosion with the wrong round inside of it.