An in-depth look at 223 ballistics complete with a ballistic data chart for some of the top-selling 223 ammo in the United States.
Fun to shoot, designed for self-defense, great for varmint hunting, and capable of taking medium-sized game, the 223 Rem is a round that can do it all.
Developed in the early 1960s to provide an intermediate round that would replace the U.S. Army's 30-06 cartridge, the 223 and its accompanying AR-15 both quickly became America's favorites.
55 grain bullets are standard for 223, although several lighter and faster bullets as well as heavier, high ballistic coefficient bullets are also available.
The flat-shooting 223 offers a greater variety of specialized self-defense loads than any other rifle cartridge.
223 Ballistics Chart
Ballistic Origins
223 Remington was conceived as a combat cartridge. The U.S. Army's search for a lighter, more powerful combat rifle led them to adopt the M16 (a variant of the AR-15). The Army's new rifle also demanded a new cartridge. They requested a .22 caliber round that maintains a supersonic velocity and penetrates .135" of steel at 500 yards, among other things.
The designers of the 223 determined that a 55 grain projectile requires a 3,300 fps muzzle velocity to meet the Army's criteria. They increased the size of a 222 Rem case to accommodate the propellant necessary to achieve those ballistics. Most modern 223 ammo with 55 grain bullets maintain supersonic velocities well beyond 500 yards, and rounds with heavier bullets maintain even faster velocities.
223 vs. 308 Ballistics
223 is generally faster and maintains a flatter trajectory than .308 but doesn't deliver as much energy downrange. You can read more about how the calibers compare here.
223 vs. 22-250 Ballistics
22-250 is faster, delivers more energy and generally shoots flatter than 223. We go into more detail in our 223 vs 22-250 comparison.
223 vs. 300 Blackout
223 ammo is typically much faster than heavier 300 Blackout rounds. However, the two rounds are fairly even when it comes to energy. The 223's lighter projectiles typically mean flatter trajectories downrange than 300 AAC Blackout though.
Trajectory
The 223's 55 grain bullet delivers a very flat trajectory up to 250 yards. At that distance it has dropped by about 6.5". Much farther than that, and the bullet begins to drop steeply. At around 500 yards a 55 grain bullet drops by the height of an average man.
As the 223's bullet weight goes up, so too does its ballistic coefficient and sectional density. A heavier bullet benefits accuracy, although it has a slower muzzle velocity and is not immunized against drop. Its greater mass and sectional density make it better able to penetrate soft tissue. Deep penetration is not as valuable while hunting thin-skinned varmints as it is for self-defense and larger game.
The 223 was invented for fighting, and makes a perfect self-defense cartridge. Its low recoil and overall fun factor have made it a range favorite as well. And while it may not pack the punch of a magnum round, 223 can reliably kill deer at ranges up to 150 yards. Many hunters prefer the 223 because they can afford to practice with it, and want to avoid flinching when they fire. Some states do not permit use of the relatively less powerful 223 during hunting season, however.
Other 223 Attributes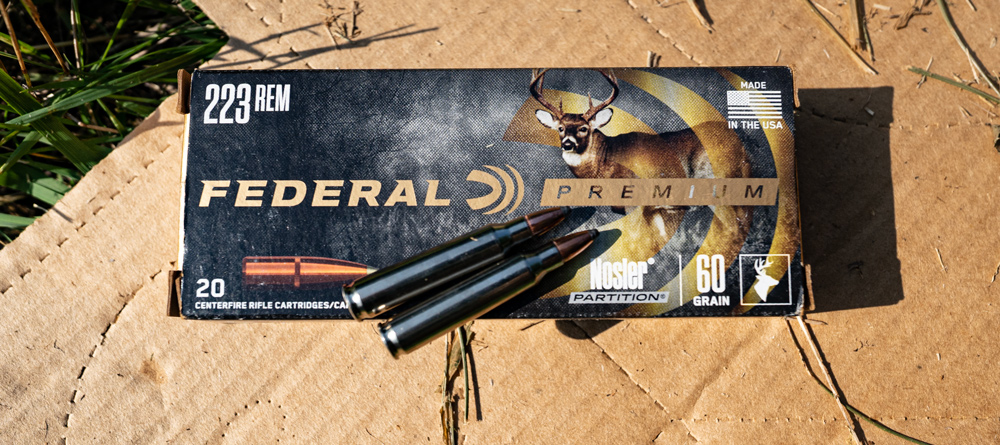 223 ammunition is excellent for varmint hunting, and has practically eliminated other centerfire .22 caliber varmint hunting cartridges from the market.
5.56×45 is a direct offshoot of the 223. FN Herstal of Belgium developed it in 1980, which is why it has a metric name. The 5.56 is designed to penetrate one side of a steel helmet at 800 meters. 223 is designed to do the same at 500 yards, which is about half the distance.
The 5.56 and 223 are virtually identical in appearance. Factory 5.56 ammunition will create more pressure than a rifle chambered for 223 can handle, and may destroy it. It is safe, however, to fire 223 in a rifle chambered for 5.56.