A first hand account as thousands of Virginia 2nd Amendment supporters rallied to protect their rights.
If you aren't aware of what's been happening in Virginia, there are a ton of lessons for 2nd Amendment supporters to take from those supporting gun rights in Virginia.
For those just waking up to current events, here is a brief run-down of what has happened in the Virginia Commonwealth over just the past three months.
Summary of Events Leading to January 2020
In the November election, Democrats secured a majority in the Virginia State Senate and the House of Delegates. Prior to the election, Democrats already controlled the Governor's Office, Lieutenant Governor's Office, and the Attorney General's Office.

Governor Ralph Northam

immediately promised

to reintroduce gun control measures he first attempted following a

Virginia Beach shooting

that occurred in May 2019 that resulted in 12 deaths and five injuries.  

Virginia legislators began pre-filing a barrage of gun control bills scheduled to hit the House and Senate floors in January. Some of the most concerning for Virginia gun owners were so called "red flag" laws, legislation that would close many indoor and outdoor gun ranges, and a limit on how many handguns you can purchase in a month. However, the most concerning legislation (

Senate Bill 16

) was a sweeping redefinition and ban of "assault firearms" that originally had no "grandfather clause" and would have made thousands of law-abiding Virginia citizens felons overnight.

Virginia counties and municipalities began passing Second Amendment Sanctuary resolutions. Thousands of gun owners turned out to local town meetings and pushed towns to pass resolutions. These individual counties and municipalities would not expend resources to enforce gun control measures that violate the Second Amendment of the United States Constitution. The movement gained rapid traction. Currently, the list of Second Amendment "Sanctuaries" includes 91 of Virginia's 95 counties, as well as 45 individual towns and cities.

Governor Northam responded to the movement saying there were "going to be some consequences" for law enforcement officers who refused to enforce laws on the books.

Virginia representative Donald McEachin suggested "the governor may have to nationalize the National Guard to enforce the law."

As a result of the above actions, Virginia is thrust into the spotlight of a heated Second Amendment debate that grabs the attention of gun owners across the United States.
Now, we're all caught up.
Growing Up with Guns in Virginia
I grew up in Virginia. Though I've lived in North Carolina for more than 25 years, I still consider the Old Dominion to be home. My mother and most of my family live there. Generations of my ancestors have shed their blood, sweat, and tears on Virginia soil, including at least one Revolutionary War patriot. That type of family history is woven into my DNA and is part of my personal identity. 
So, I still consider myself a proud Virginian.
I am also a proud gun owner. In fact, my father first placed a .22 semi-automatic rifle into my hands at the tender age of six. He helped me balance it, taught me how to slow my breathing before slowly squeezing the trigger after the exhale. I was only popping empty soda cans off a fallen log. Those lessons laid the foundations of good marksmanship and gun safety while I stood young and barefoot on Virginia dirt. 
I would later spend much of my formative years in the woods, fields, and mountains of the Old Dominion hunting whitetails, turkey, rabbits, and game birds. 
Virginia's Gun Control Legislation
The new Virginia legislature's early proposed "assault firearm" ban made no delineations for caliber or cartridge. Under the original pre-filed bill, the little .22 lr my father employed to introduce me to shooting would have been labeled an assault firearm. If passed 40 years ago, my father would have been a felon, not just for placing that rimfire rifle in my young hands, but for owning it in the first place. 
I couldn't imagine destroying generational family heirlooms (or handing them over to the government) because someone who doesn't really understand firearms decided they were "assault weapons." Nor could I imagine the person I would be today were it not for those early shooting experiences with my dad. 
We'd never used any of the weapons I grew up shooting to assault anyone. 
I think it is important to point out that many changes have been made to some of the gun control bills since they were first filed. Words have been changed, dropped, and added. Senate Bill 16 was stricken in committee. 
A grandfather clause is included in the most recent "assault weapons" bill (House Bill 961). Under this new bill, any person who legally owns an "assault firearm" on July 1, 2020 can keep it, but they must register the weapon.
The bill also requires the State Police to enter the name and description of a person issued a permit into the Virginia Criminal Information Network. This one piece of legislation makes it feel very much like legal gun owners would be categorized as criminals, even if they do comply by registering their weapons.
Virginia's Second Amendment Sanctuary Movement
Apparently I wasn't the only one disturbed by the proposed gun control bills.
In the span of several weeks, more than 120 Virginia towns, cities, and counties declared themselves "Second Amendment sanctuaries." Thousands of citizens were showing up to some of these rural county meetings. I noticed family, friends, and old hunting buddies among the faces in the crowds.
My cousin, Rodger Willett, even spoke at Gloucester County's Board of Supervisors meeting.
https://www.facebook.com/amy.a.pierro/videos/2909290432455780/
I watched Virginia's rapidly expanding 2A Sanctuary movement like a dedicated fan girl. I vowed to attend Lobby Day in January. Sponsored by the Virginia Citizens Defense League, Lobby Day is an annual event designed for Virginia gun owners to communicate with their legislators. Since I am not a Virginia gun owner, I just wanted to be there for moral support. 
When I first decided to make the trip to Richmond, VCDL was hoping to draw at least 1,000 supporters. As news of what was happening in Virginia spread, it became apparent that the event would be much larger. The thousands of citizens showing up to county board meetings indicated Lobby Day was sure to draw a crowd. Charter buses were being booked to bring in supporters from across the state. Meanwhile, plenty of out-of-state support vowed to show up in Richmond on January 20th. 
A State of Emergency
Just days ahead of Lobby Day, Governor Ralph Northam declared a temporary state of emergency. The state banned all weapons (including knives and sticks) on Capitol Square where the rally was set to take place. There were claims neo-Nazis and white supremacists planned to hijack the event. Several arrests were made prior to the event. 
They erected a large fence around the Capitol grounds. There would be heavy security searching people as they went in to what many interpreted as a "cage." Open carry is legal in Richmond but the state didn't allow anyone to carry a firearm into the event. The masses were not happy with the requirement that they assemble inside a fenced-in area.
"The land of the free*…."

*As long as you stay within this cage, pass through security and metal detectors, and check your constitutional rights at the gate. #Virginia #lobbyday #2A pic.twitter.com/7GrjnnmIFk

— Ghosts Of Home 7️⃣ (@SteelerChris) January 17, 2020
As rumors ran rampant on the internet about riots and tear gas, I almost backed down. I was concerned for my safety (and the safety of my family who planned to attend with me).
My Experience at the Virginia Rally
Honestly, I had no idea what to expect when I woke up Monday morning. I packed a first aid kit and extra water just to be on the safe side. I also decided to carry a sidearm, although I knew that would exclude me from the fenced-in rally area on the Capitol grounds. 
To me, it seemed ridiculous to willingly disarm in order to protest the government disarming the people. Apparently thousands of rally goers agreed with me, as the number of armed individuals outside the fence far outnumbered the unarmed protesters inside.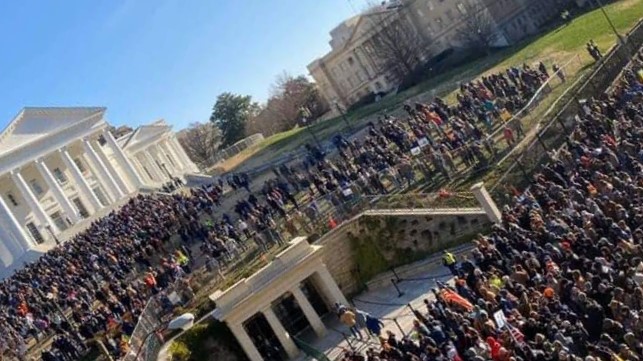 Estimated numbers vary, but there were between 22,000 and 50,000 people in attendance. Only 6,000 people chose to enter the fenced-in gun free zone.
Here's my view from inside the crowd.
What I Saw
Temperatures hovered around freezing for most of the day. However, everyone seemed to be in good spirits despite the frigid temps. In fact, everyone was incredibly pleasant, friendly, and respectful. I heard "excuse me" and "I'm sorry" more times than I could possibly count. There is certainly some truth to the famous Walter Heinlein quote:  "An armed society is a polite society."
I saw absolutely zero swastikas or other signs of white supremacy. Even the controversial Confederate battle flag was largely absent from the former capital of the Confederacy. 
We did see the red flag of Hong Kong, with its five petaled orchid, an obvious show of support for the Hong Kong protesters. When asked about the flag, one person nearby said, "It's only fair. They're carrying ours."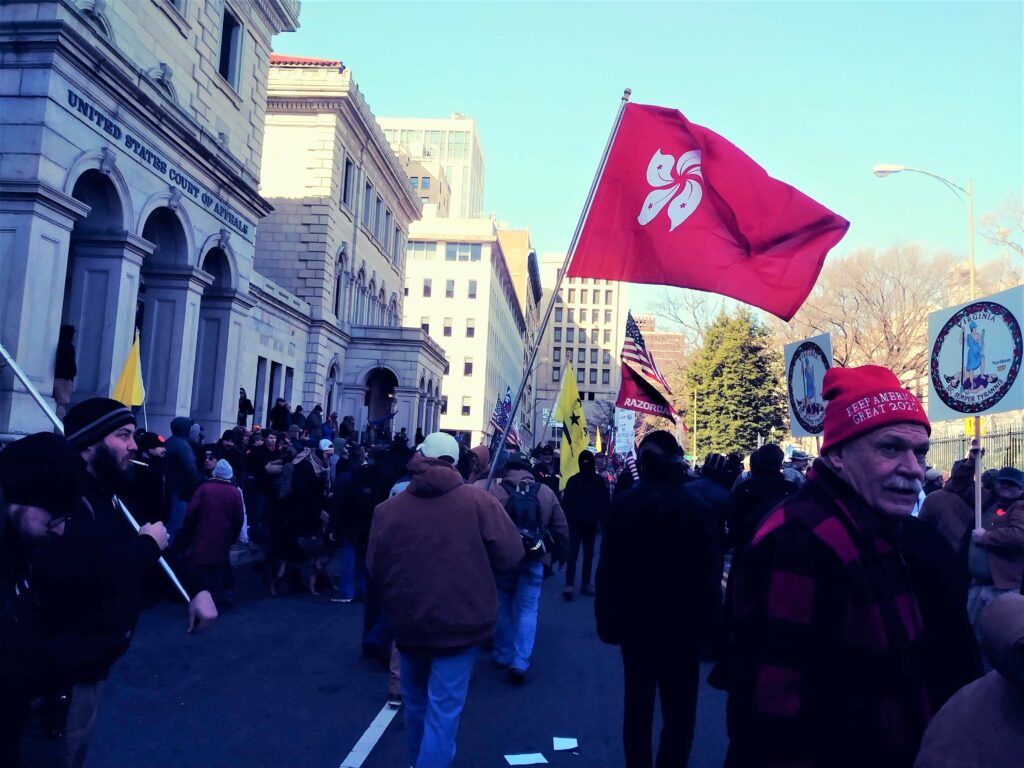 Law Enforcement On Hand

What I did see was a massive police presence. You could hardly walk five feet without passing a law enforcement officer. There were obvious snipers on the rooftops of both the Capitol building and the surrounding office buildings. Three three police helicopters circled constantly overhead. We made it a point to speak to law enforcement officers, smiling and thanking them for being out in such nippy weather. Every officer we encountered was smiling and friendly, and there were no armored vehicles or riot gear, although there had been plenty of rumors about a militarized police force circulating online.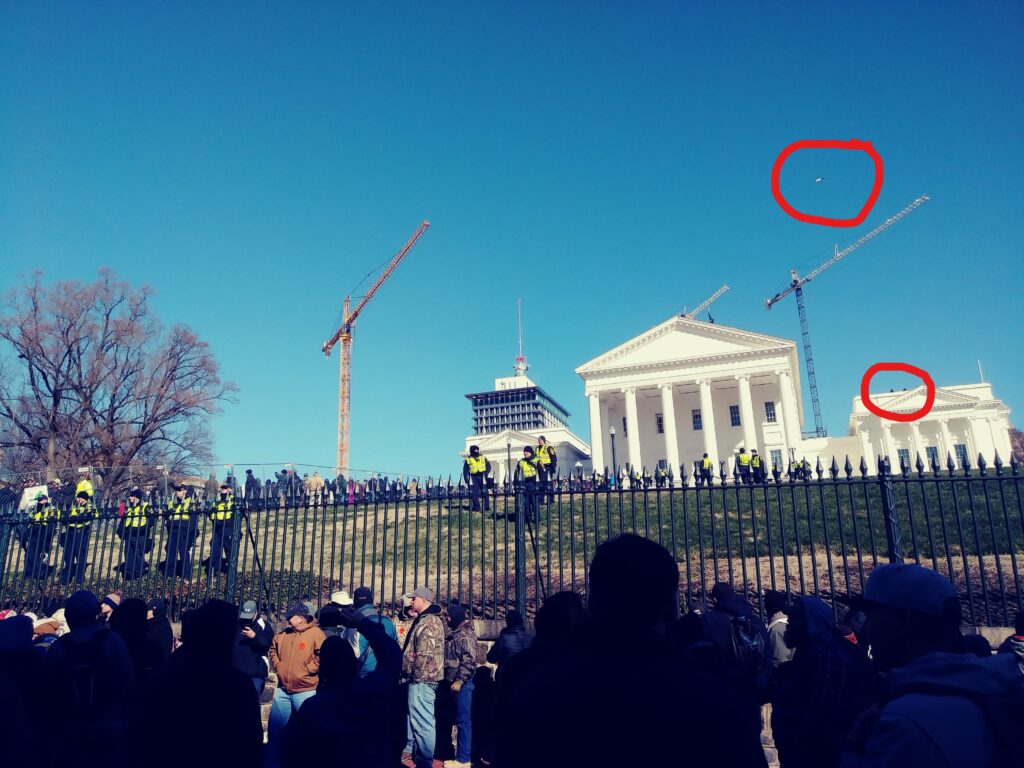 One rumor was true. There was a ton of out-of-state support for Virginia gun owners.
The rumor about the event being a powder keg for violence also turned out to be untrue. With at least 22,000 protesters, most of them armed (some of them heavily), there was only a single arrest the entire day. Police arrested one young woman for refusing to adjust the bandanna covering her face. The arrest occurred around 1:30 in the afternoon, approximately an hour and a half after the conclusion of the event.  
What I Didn't See
No weapons accidentally discharged. No one had any major bouts of road rage. Everyone I saw carrying a rifle practiced admirable muzzle and trigger discipline, and that's hard to do in a huge crowd. I would even go so far as to say the attendees epitomized the characteristics of a well-regulated citizen militia. 
There was no shortage of pithy signs.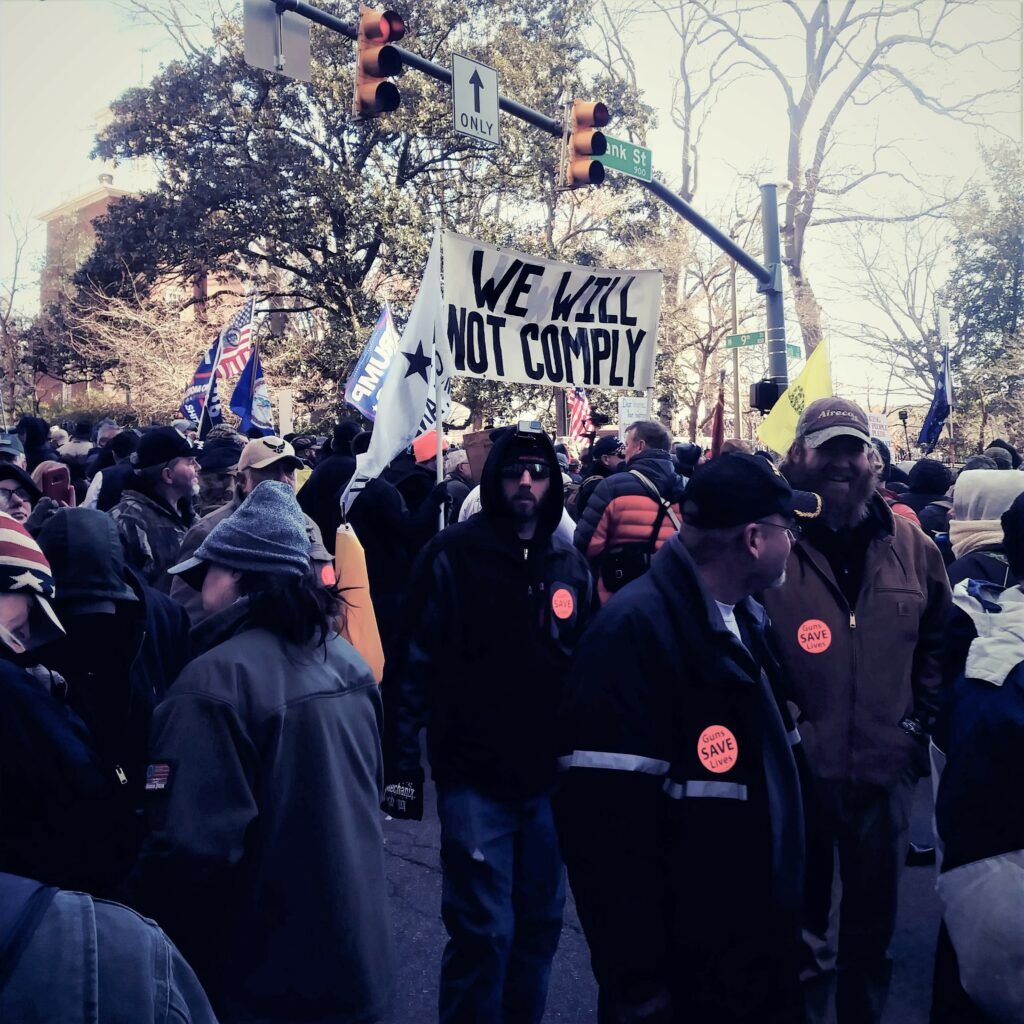 Here are my contributions to the day's collection of pithy signs.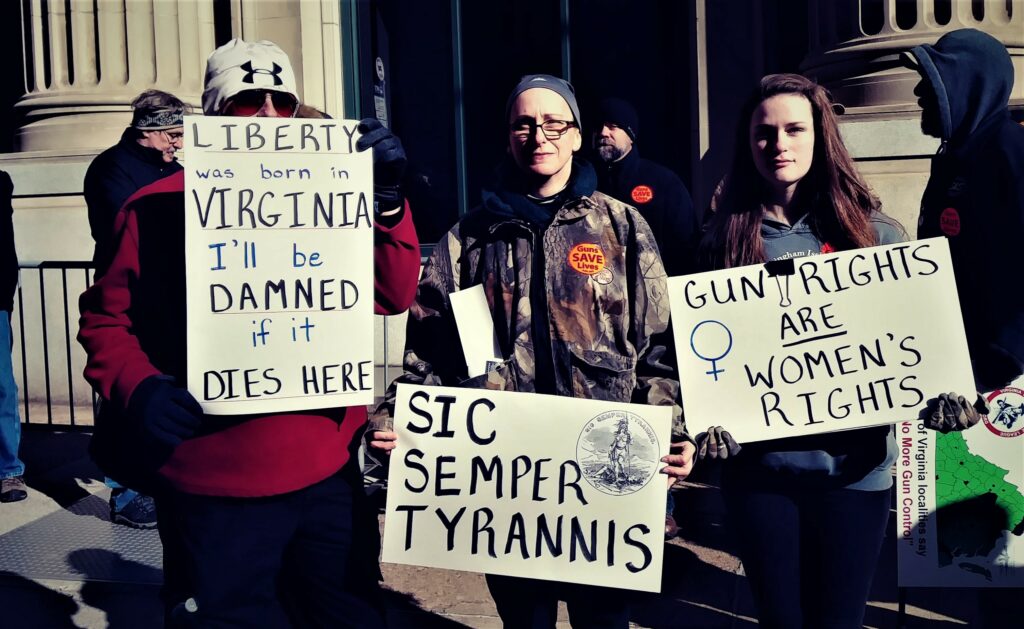 At the end of the day, Virginia gun owners and their supporters showed their true colors by going the extra mile and cleaning up after themselves. I was already on I-95 headed toward North Carolina before the crowds completely dispersed. However, I've heard several first-hand accounts of rally participants picking up trash. Cameras even caught some scraping stickers off the Richmond pavement. 
https://www.facebook.com/TimesDispatch/photos/a.78446401004/10157660566251005/?type=3&theater
I'm not surprised. Whether they own firearms to put meat on the table, defend their families, or to protect themselves from a tyrannical government, gun owners value personal responsibility. 
Some Virginians are angry to be in this situation in the first place. They blame their fellow Virginians for getting them into this gun control mess. 
"We wouldn't be in this mess if gun owners had voted in the election." 
Only about 40 percent of registered voters showed up at the polls in November. Many gun control democrats ran unopposed. Others won their districts by very slim margins. 
Those angry Virginians may be right. Maybe Virginia's Second Amendment rights are under fire due to the general apathy of Virginia gun owners in the past. 
Only now, gun owners are trying to clean up the mess may have helped make.
Just like those protesters who stayed behind to scrape stickers and pick up garbage. 
I hope it isn't too late.